An art and design exhibition transforms an architectural ruin in Berlin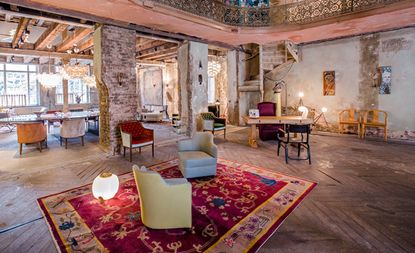 (Image credit: TBC)
Last Sunday saw the opening of a showcase of art and design rarely seen in the German capital. For the 'Between Time' temporary exhibition, interior architect Gisbert Pöppler and vintage furniture dealer Erik Hofstetter have commandeered a former 19th century hardware store at Wallstraße 85 to offer a sophisticated choreography of interior design, fine art and boutique home furnishings, with objects from 1900 to present day.
'We want to introduce interior design to Germany, because in America, England and France, it has a long history, but in Germany, you create your own home concepts,' says Pöppler.
The duo have broken with conventions of the typical showroom culture and accrued design elements from artists with whom they have personal relationships, such as Remo V Lotano, who provided collages and assemblages, and Amin Motamedi, whose Chinese Art Deco carpets provide vibrant terrains. Hand-selected partners include Azucena, Italy's premiere furniture manufacturer, and Dedar, for its latest collection of fabrics and wall coverings. Meanwhile, exclusive access to selected spaces in Wallstraße 85 was secured by Christmann Immobilien AG.
The historic building on Wallstraße has been a long time favourite of architecture aficionados in Berlin, but has hosted only a handful of high profile events. It is one of the few remaining buildings of such grandeur, yet faces inevitable gentrification. Scheduled for complete renovation by 2015, the ground floor of Wallstraße 85 will be used as a commercial art space, while the remaining floors will be converted into flats. Between Time is a transitional showcase - and will be one of the final opportunities for the public to enjoy its architectural splendour in its original form.
From left: Vintage armchair, upholstered with fabric from Lelievre; 'P24 Luis' chair by Luigi Caccia Dominioni, 2003, from Azucena; Writing table, designed by Gisbert Pöppler, Homage to Axel Einar Hjorth; 'B403F' chair by Ferdinand Kramer, 1927, from Thonet; 'China' chairs by Hans J. Wegner, 1949, from Fritz Hansen
'Chinotto' armchair, designed by Luigi Caccia Dominioni, 1973, from Azucena; 'P12 Angolo' armchairs by Corrado Corradi Dell'Acqua, 1963, from Azucena, upholstered in fabric from Dedar; 'Theben' stool by Liberty & Co, circa 1890; a French glass display cabinet, circa 1900, from Fil de Fer, Copenhagen; and a Chinese Art Deco rug
Persian kilims; 'Nonaro' armchair, footstool and sofa by Luigi Caccia Dominioni, 1962, from Azucena; 'Guinone' standard lamp by Vico Magistretti, 1969; 'Porcino' floor lamps by Luigi Caccia Dominioni, 1967, from Azucena; bird photographs by Wolfgang Stahr; and a wall lamp by Vetri Seguso and Gio Ponti, 1942
ADDRESS
Wallstraße 85
Berlin
Germany