Indian tradition marries German rigour in a new cross cultural furniture collection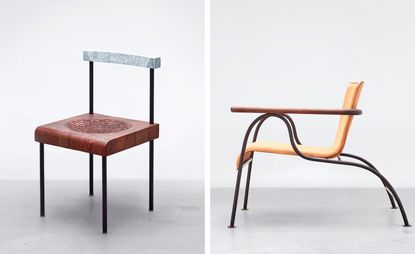 (Image credit: pascalhien.com)
Pascal Hien and Nikita Bhate first met at Fabrica – a communications research centre near Treviso in Italy – in 2014. Three years later, the two designers present a collaborative project, dubbed 'Reclaimed Stories'.

A little background context: Hien is a German practitioner concerned with the interstices of user-oriented industrial and artisanal design; while Bhate is a designer interested in creating functional objects relevant to day-to-day life, based in Pune, India. 'Reclaimed Stories' combines these remits in an Indian-inspired, handcrafted furniture collection of three armchairs, a sofa and a table.

It's all objectively beautiful stuff; as solidly practical as it is visually meticulous, imbued with a refined exotic aesthetic that nods to seminal midcentury European design as much as something more wistfully – and willfully – anachronistic.

Take the 'Tankan/Stroke' lounge chair. Its fluid curves, shaped by an Indian blacksmith, recall those of the country's older, heavyweight outdoor iron furniture. But there's an explicit dualism afforded by the soft, hand-stitched leather upholstery: 'a simple and bold form,' the duo states, 'that conjugates rudimentary and chic'.
More evocative still is the ­­retro 'Āyāma / Extend' deck chair, made from lathe-turned reclaimed wood and featuring extended arms that can be folded into footrests. The design makes subtle nods to the joinery of traditional Sankheda furniture from Gujarat. The region is similarly referenced in the 'Sānchā / Block' dining chair: a simple seat with a granite backrest and a wooden seat featuring a design of almost filigree complexity by blockmakers from the town of Pethapur.

Elsewhere, the 'Barza / Balcony' lounge sofa sees a solid teak construction with various seating heights and wide, overhanging arm rests that suggest the canny use of space constraints ubiquitous in everyday Indian life (from 'balconies of apartments to counter overhangs of the street food stalls', Bhate and Hien suggest). More elaborate decoration is afforded via the illustrated fabric used to cover the backrest, with Lilliputian depictions of folk stories rendered in natural pigments.

Finally, the 'Dasta / Handle' dining table is inspired by traditional cultural eating habits; the slab top of stone marble or glass dotted with holes, into which brass door handles can be inserted to create displays for a diverse selection of cuisines and rituals.

With this collection, Bhate and Hien explain, they sought to explore typical ways of living in India, melding traditional and contemporary design in an 'expression of the harmonious co-existence in the diverse Indian society'. That philosophy might be lofty, but they've as close as succeeded.
INFORMATION
For more information, visit the Pascal Hien website and the Nikita Bhate website