Patricia Urquiola and Federica Sala shine light on Achille Castiglioni's legendary design career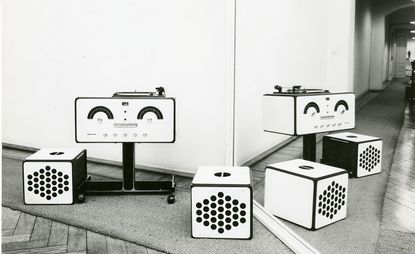 (Image credit: Francesco Biganzoli)
Milan's Triennale Design Museum has been having a banner few years. First, with its blockbuster Ettore Sottsass exhibition in 2017, closely followed by the Osvaldo Borsani retrospective this spring. Now, they have turned their attention to another grandmaster of Milanese design, Achille Castiglioni, born 100 years ago this year. Curated by Patricia Urquiola, who served as his teaching assistant at Milan's Politecnico University in the late 1980s, and Federica Sala, it charts the prolific designer's output starting from the 1950s to his death in 2002.

For the exhibition, entitled 'A Castiglioni', Urquiola and Sala sifted through over 1500 objects and projects in preparation, eventually narrowing the show down to 230 pieces, each illustrated by drawings, plans, notes and correspondence sourced from the Castiglioni archive. 'It's really an incredible quantity of documentation,' explains Sala, 'the stories behind objects that, until now, you only ever knew from their form.' Spanning two floors, the exhibition is organised into 20 separate 'clusters' — based on the networked nature of a rhizome or mindmap — that speak to various attributes that have come to define Castiglioni's life and work. 'A simple gallery set up would have never been his way of working,' explains Urquiola of the sprawling show, 'we want curiosity to move you through the exhibition'.
Starting with the cluster 'The Grand Milan' — where visitors enter the exhibition by walking under an archway of his iconic and ubiquitous Arco lamps — Urquiola and Sala kick things off by paying tribute to the designer's hometown. Indeed, Castiglioni's studio on Piazza Castello, which today serves as an archive and museum, is no more than a short 500 metres away from the Triennale's home Sempione park. A highlight of this opening section is a plan he dreamed up in the 1950s to circle the Triennale museum with a model railway looping across its facade.

The idea inspired the exhibition's eventual layout, a circular plan that exits the buildings at one point and climbs an exterior staircase to the second level before looping back. 'If we had more time to plan,' jokes Sala, 'I think Patricia could have convinced them to build the train.'

From there, the exhibition moves into more subjective realms. Other clusters include 'Redesigning', which charts Castiglioni's experimentation in perfecting existing objects. For example, artists' easels, which resulted in his Bramante and Leonardo tables. There is 'Reiterating', exploring his use of repetition as a tool in composition, specifically in his light installations for Flos. 'Keep It Simple', showing his tendency for reduction and 'Ready Making', a partnership with Sony, that allows for animated interaction with his ready-made pieces, like the Mezzadro and Sella chairs, which make use of tractor and bike seats, respectively.
Urquiola and Sala even get down to the nitty-gritty of Castiglioni's habits; a cluster called 'Smoke' is dedicated to Castiglioni's love of cigarettes, ever-present dangling from his fingertips, alongside his ashtray designs for Alessi. But the exhibition's joyful climax comes right in the middle, where a darkened room is filled with 100 Flos Parentesi lights — one for every year since his birth, like candles on a cake — flashing on and off at random to a soundtrack of everyday objects and snippets of songs.

'Nowadays design is so untouchable,' explains Sala of the decision to keep the exhibition loose and fun, 'there is this obsession about design: there are design chairs, design cakes, design whatever. But that wasn't the spirit of Castiglioni. You have to touch and live with design. It's something that is so close to you.' Though the exhibition is explicitly joyous, it remains a rigorously researched archive show. Those looking for the deep cuts will not be disappointed: original versions of Sanluca, Babela, Hilly and Irma chairs, among others, are all on glorious display.

More than anything, though, the exhibition feels like a homecoming. A humanising and intimate portrayal of a man who has done so much to furnish the 20th-century's homes and minds. Rather than presenting it as a linear retrospective of Castiglioni's work, Urquiola and Sala have infused the show with the kind of playfulness and humour that those close to Castiglioni remember him best.

'The thought he put in our mind from the first day of university,' says Urquiola of his influence on her own work, 'is that when you are designing, you are doing something for someone else. It's alive when people are using it. You have to create empathy and curiosity, that's it.'
INFORMATION
'A Castiglioni' is on view at Triennale Design Museum until 20 January 2019. For more information, visit the website (opens in new tab)
ADDRESS
Viale Emilio Alemagna, 6
20121 Milano MI
Italy
VIEW GOOGLE MAPS (opens in new tab)
Laura May Todd is a Canadian-born, Milan-based journalist covering design, architecture and style. In addition to the Italian dispatches she writes for Wallpaper*, she regularly contributes to a range of international publications, including T: The New York Times Style Magazine, Architectural Digest, Elle Decor, Azure and Sight Unseen. Prior to her work as a journalist, she was assistant editor at London-based publishing house Phaidon Press.