A poetic pause: Aldo Bakker presents a solo show at CID Grand-Hornu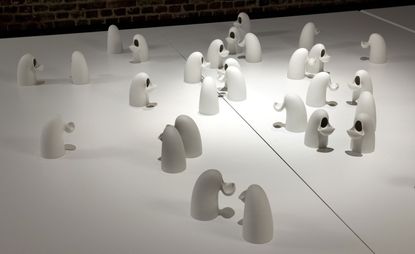 (Image credit: de Gober)
Aldo Bakker is a designer that takes the concept of shape and purpose to extraordinary levels. His epic stylistic waves, poetic leaps and juxtaposed domestic uses are memorable and always recognisable. In an exhibition titled 'Pause', his artful oeuvre, straddling craftsmanship and sculpture, is being intimately presented at Belgium's CID Grand-Hornu.

Following on from explorations like 'Containing Content' that focused on the unusual silhouettes of his whimsical jugs, 'Pause' takes a similar tack, but allows the viewer to spend a little more time with all of his everyday pieces – the jugs, tables and vessels – in an artful absorption of their meaning.

Starting from a young age, Bakker had a unique way with working from scratch, always sketching his idiosyncratic shapes first; here he has designed the show itself, in pure Bakker studio aesthetics. 'There are so many pieces that have to tolerate each other and complement each other,' he explains. This interaction between the different pieces is almost animated, as evinced in his 2008 'Vinegar Flask'. Displayed in bulk, set across the floor together, the flasks happily talk to one another with their characteristic spouts, turning them into small creatures within the show.

'Every piece get its own typical lighting; we worked with a light specialist and that changed between very sharp light and very soft light, warm, cold, moving light,' Bakker continues. This optical influence gives his spaciously laid out, ornamental pieces extra depth, from the shadow of the swooping arms of his teapot – that makes it look as if it is about to run away – to the different hues, materials and finishes that possess a special gleam.

When discussing the sequence, and his intended audience reaction, he says, 'you can make the relationships yourself. It is revealing a lot, but it's not in your face, you have to look for it.' And so we pause for yet another second, to ponder this wonderfully conceived Bakker world.
INFORMATION
'Aldo Bakker: Pause' is on view until 14 August. For more information, visit the CID Grand-Hornu website (opens in new tab)
ADDRESS
Site du Grand-Hornu
Rue Sainte-Louise
82 B-7301
Hornu
VIEW GOOGLE MAPS (opens in new tab)