Travelling light: a collection of 70s French lights finds its way to New York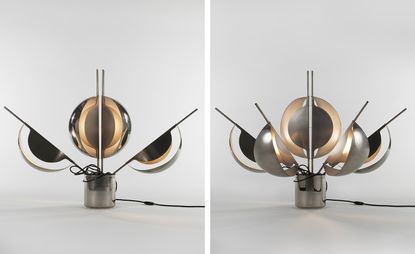 (Image credit: Press)
Stephane Danant, from Gallery Demisch Danant in New York, has collected, (and now sells) a small series of niche lights from the French studio Verre Lumiere. Founded in 1968 by Max Ingrand, a French master glass worker and decorator, Verre Lumiere was in fact a partnership between French glass company Saint Gobain and the lighting firm Mazda and spanned over only 20 years.

With just forty craftsmen everything was devised in house – and it shows in their simple hand forged beauty. Apart from distinguishing themselves through public and commercial commissions, including Pierre Paulin's Élysée lamps, designed in 1972 for George Pompidou's private apartment in the Palais de l'Élysée in Paris; and their Brasilia lamps, designed in 1974 by Michel Boyer for the French Embassy in Brazil, Verre Lumiere was also one of the first companies to introduce halogen bulbs.

The material of choice for these edited collections was stainless steel, chrome, and nickel also opaline glass with most series consisting of just a ten or twenty pieces. 'Respected for its utmost quality and integration of light into any environment, the lights needed no branding – the functional design style alone is the recognition,' says Danant.

Legend has it that over lunch designers would sketch prototypes on napkins, by the end of the day they were made up and ready – how utterly ahead of its time.
INFORMATION
Verre Lumiere lights range between $10,000 - $45,000. For more information, visit the Demisch Danant website (opens in new tab)
Daniel Scheffler is a storyteller for The New York Times and others. He has a travel podcast with iHeart Media called Everywhere (opens in new tab) and a Substack newsletter, Withoutmaps (opens in new tab), where he shares all his wild ways. He lives in New York with his husband and their pup.