Black designers tell a story of craft and history in New York exhibition
Furniture by Black designers including Norman Teague, Nifemi Marcus-Bello and Peter Mabeo features in 'Spotlight II' at Verso Gallery (until 10 November 2023)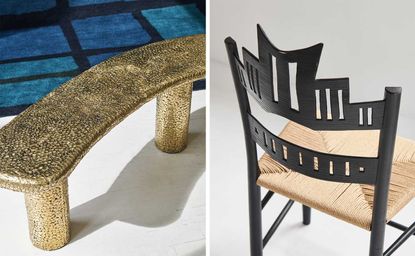 (Image credit: Kelly Marshall)
Tribeca's Verso gallery presents 'Spotlight II' (until 10 November 2023), a striking exhibition of furniture made by Black designers, curated by designer Little Wing Lee, who's founder/creative director of Studio & Projects.
Lee appreciates the symbolism within decorative objects. After all, they're tangible expressions of culture – of the embodied knowledge passed down by makers and of the cultural values embedded in the shapes and silhouettes designers choose to use. 'I'm always interested in people's stories and histories,' Lee says during a walk-through of the exhibition.
'Spotlight II': Black designers at Verso
The materially and texturally rich objects in the show include a shimmering cast-bronze bench by Nifemi Marcus-Bello, a matte-black hand-carved and laser-cut wood chair by Norman Teague, and Lee's own hand-knotted wool rugs that reference the abstract geometric patterns in African textiles.
'Spotlight II' is the second group show of Black designers that Lee has organised. Like in the first edition, which took place at the Ace Hotel in Brooklyn during New York Design Week 2022, she brought together work that she was naturally drawn to ('They're all pieces I'd want in my home,' she says.) And while they represent distinct points of view, each piece threads a conversation between the past and the present in order to create something new.
Marcus-Bello, who is based in Lagos, reinterpreted the dotted facial markings of the Surma tribe of Ethiopia for his 'Friction Ridge' conversation bench, which is composed of thousands of small pebble-like forms. He decided to make the piece out of bronze using a lost-wax method as a nod to the Benin Bronzes repatriated in 2022.
Reviving traditional fabrication methods was also the focus of Robell Awake, a chairmaker in Atlanta who has been researching and reviving the furniture traditions of enslaved Africans. He made his adaptation of a ladder-back chair the same way they would have, using greenwood joinery (a way to make tight-fitting joints using the natural properties of wood) and a woven paper-cord seat.
Sometimes the cultural references are more whimsical. Using lace doilies on coffee tables is common in Botswana's homes, so Peter Mabeo, who is based in the capital city of Gaborone, designed tables with hand-carved scalloped edges and fluted bases.
For Lee, organising the exhibition has been no different than building community. 'There's a lot of energy, people are doing such great work, and the community is growing,' Lee says. Many of the designers in the show weren't initially interested in furniture design, but were drawn to that type of work after doing something else, like Jonas Damon, an industrial designer who made two modular aluminum tables, one polished to a mirror finish and another left raw, for the show, and Teague, who initially went to school for architecture before switching to product design. 'I was talking with Norman [Teague] and he's like, "What are we going to call this moment of time?''' Lee says. 'We need a name for it.'
'Spotlight II' is on view until 10 November 2023
Verso
51 Hudson Street
New York, NY
Receive our daily digest of inspiration, escapism and design stories from around the world direct to your inbox
Diana Budds is an independent design journalist based in New York