Three thrones, four centuries: 'This Island Sunrise' at Sadie Coles HQ
'This Island Sunrise' celebrates improvised British design at Sadie Coles HQ, London (until 24 September 2023)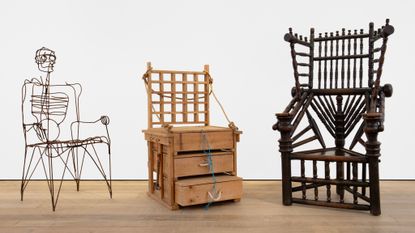 (Image credit: © The Artist/s, courtesy Simon Andrews and Sadie Coles HQ, London.Photo: Katie Morrison)
Wallpaper* Newsletter
Receive our daily digest of inspiration, escapism and design stories from around the world direct to your inbox
Thank you for signing up to Wallpaper. You will receive a verification email shortly.
There was a problem. Please refresh the page and try again.
When stumbling upon an antiques shop, it is always fun to have a rummage to explore what treasure you may find. Such unexpected encounters with overlooked craftsmanship are recalled in this exhibition of thrones – each at one time discarded or unwanted, and now given fresh perspective by curator Simon Andrews in 'This Island Sunrise' at Sadie Coles HQ in London, coinciding with London Design Festival 2023.
Time to take a seat (or two) at Sadie Coles HQ
Three thrones stand tall as the focus of the exhibition, among other objects and artefacts. Though separated by centuries in their creation, each throne shares a similarity in being constructed out of modest or discarded materials to establish something beautiful, demonstrating its artist's capabilities.
Surprisingly, two of the thrones are inspired by the design and complexity of the skeletal system. The first, Turner's Throne (c.1640), is an insight into the origins of how a throne was, and still is, viewed in history, as a symbol of power and authority. The unnamed creator would have used Britain's forest to source ash, oak and walnut to hand-build this uniquely crafted throne.
Centuries later, and through a more modern perspective, Tom Dixon's Skeleton Throne (1985) tells a socio-political story. Dixon's design is almost satirical in its use of discarded iron, a material on which Britain once built her empire, to create the pirate-eque skeleton that went down with the ship. As we face the aftermath of industrialisation and its dire impact on climate, the sentiment resonates.
The final throne of the collection is one from Eduardo Paolozzi, who came across abandoned crates and other materials outside Zeev Aram's Covent Garden showroom. Sculptor's Chair (1985-1987) is for, in Paolozzi's words: 'the sculptor, after a lifetime of improvising, reaching for his tools'. The shallow box, hammer marks, knots and nails are additional details that nod to the creative mind and process of a sculptor.
Each throne offers a unique interpretation of British history and culture, brought together by design and identity.
'This Island Sunrise' at Sadie Coles HQ is on view until 24 September 2023
Receive our daily digest of inspiration, escapism and design stories from around the world direct to your inbox