'Pleated for Frank' at Svenskt Tenn pays homage to a beloved 20th-century designer
Stockholm Design Week 2023: Folkform and Svenskt Tenn present an homage to the classic plissé lampshades by Josef Frank (until 19 May 2023)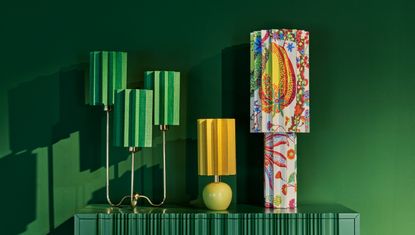 (Image credit: Courtesy Svenskt Tenn)
'Pleated for Frank' is an homage to the classic plissé lampshades that Svenskt Tenn has been producing since the 1930s – in patterns pulled straight from the archive of early 20th-century designer Josef Frank. A longtime collaborator of the brand, Frank was known for his brightly rendered abstract and botanical prints and modernism-influenced furniture and objects.
The new exhibition (on view until 19 May 2023) is a collaboration between Anna Holmquist and Chandra Ahlsell of Stockholm-based design studio Folkform – who won designer of the year at the Scandinavian Design Awards 2023 during Stockholm Design Week – and historic interiors shop Svenskt Tenn, founded in 1924.
Svenskt Tenn and Folkform: Pleated for Frank
In designing the lighting collection, which originates from Folkform's 2020 exhibition 'L'Art Plissé', made in tandem with the artist Roland Hjort, Holmquist and Ahlsell paired Frank's colourful screen-printed patterns with their own material-first approach to design.
'Our fixtures are different from many other pleated lamps because the base of the lamp is a pleated shape as well,' explains Holmquist of the tall, cylindrically shaped shade, which is composed of stiff woven linen and can be paired with multiple bases, including several floor-sized and wall lamp models in brass and a rotund ceramic tabletop version in addition to the fully fabric option. 'We have even updated the traditional pleating technique by hiding the entire lamp structure on the inside without any visible holes or cords.'
Taking over the shop's waterfront gallery overlooking the Stockholm harbour, Folkform and Svenskt Tenn have washed the space from floor to ceiling in a mossy shade of dark green, a signature colour for Frank. 'We worked together with Folkform to create a monochrome space where everything from walls and ceiling to furniture and floor is showcased in different shades of green,' explains Karin Södergren, head curator at Svenskt Tenn. 'This places the lamps in focus, creating spots of light around the green room.'
The collection marks the third collaboration between Folkform and Svenskt Tenn – previous projects included a rotating wooden bookcase and cabinets made from repurposed Masonite – continuing a fruitful alliance with Stockholm's contemporary design scene and one of its most beloved historic institutions.
'Pleated for Frank' is on view until 19 May 2023
Svenskt Tenn
Strandvägen 5
Stockholm
svenskttenn.com (opens in new tab)
folkform.se (opens in new tab)
Laura May Todd is a Canadian-born, Milan-based journalist covering design, architecture and style. In addition to the Italian dispatches she writes for Wallpaper*, she regularly contributes to a range of international publications, including T: The New York Times Style Magazine, Architectural Digest, Elle Decor, Azure and Sight Unseen. Prior to her work as a journalist, she was assistant editor at London-based publishing house Phaidon Press.