Noma Kyoto pops up with a design inspired by Japanese culture
The Noma Kyoto pop-up is open until 20 May 2023, hosted in the spaces of Kengo Kuma's Ace Hotel, and with interiors designed by Copenhagen's OEO Studio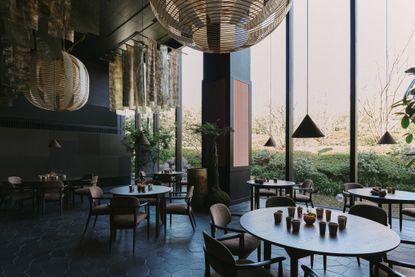 (Image credit: Tanaka Kotaro)
Leaves, rocks, flower pods, shells, moss balls and a floating seaweed forest – plus ceramics, bamboo, lacquerware, natural textiles, tatami screens and wood craftsmanship. The boundary between the natural and the handcrafted is organically blurred to scenic contemporary effect at Noma Kyoto, the latest in a string of global pop-ups by wildly acclaimed Copenhagen restaurant Noma.
The ten-week pop-up – until 20 May 2023, which coincides with the ancient city's famed cherry blossom season – fuses the beauty of natural objects with a cornucopia of more than 50 handcrafted items, from cups and knives to lighting, by mainly Japanese and Nordic makers.
Noma Kyoto pop-up: interiors by OEO Studio
The space, designed by Copenhagen-based OEO Studio alongside Christine Rudolph, Noma's resident stylist, spans the third-floor restaurant of the Ace Hotel Kyoto, a large double-height space with a wall of windows overlooking a rooftop garden.
Showing Wallpaper* around the space, René Redzepi, Noma's founding chef – who has relocated his entire staff and their families (95 people in total) from Copenhagen to Kyoto – explains: 'I would sum it up as handmade, modern, respectful. We wanted to balance the handcrafted elements so it didn't feel too traditional.'
Thomas Lykke, co-founder of OEO Studio alongside Anne-Marie Buemann, adds: 'The key inspiration for Noma Kyoto was Japanese culture and Kyoto. The interior is an accolade of the richness in craftsmanship, tradition and cultural heritage.'
Upon arrival, a treasure trail of natural objects – shells, leaves, stones – subtly lines the staircase that leads from the Ace Hotel Kyoto lobby to the third-floor restaurant entrance. Here, visitors pass through the jewel red and green tones of a hanging noren curtain, created for Noma by the legendary 101-year-old Japanese artist Samiro Yunoki (whose bold-hued works are also scattered throughout the hotel).
Stepping inside, an otherworldly nature-inspired scenography unfolds – with the tone set by a large moss ball sculpture abstractly adorned with exotic foliage, including a Lady of the Night orchid.
A subdued Kyoto palette of earthy tones spans the space, reflected in sage, grey and coral tatami mat panels by Yokoyama Tatami forming minimalist, vertical space dividers; dark brown oak tables from a bespoke Stellar Works AYA Collection by OEO Studio, with Kvadrat-upholstered onyx oak seating; and clean-lined Time & Style cabinets, filled with artefacts from Kyoto temple antique markets, alongside natural objects from forest hikes.
Seaweed is a key component of Noma Kyoto's DNA, for the interior as well as the contents of its plates – best embodied, perhaps unusually, in its kelp forest. Floating above the heads of diners in the main space, festooned on a bamboo trellis, is a dream-like (and acoustics-absorbing) sea of organic green panels, made from a mix of kelp bio-textiles crafted by Copenhagen-based Natural Material Studio; dyed fabric by Tokyo tenegui-maker Kamawanu; and kelp seaweed, sourced in Japan's northernmost island Hokkaido. 'This is my favourite feature, it's a masterpiece, with its mix of materials,' says Redzepi, who plans to hang it up in Noma Copenhagen when the pop-up finishes on 20 May.
As a subtle visual connector with the Copenhagen restaurant, bespoke Kyoto versions of its signature triangular 'Algae Paper Lamp' pendant lights, crafted from Danish algae and thermoflock paper, by Jonas Edvard, also hang cleanly above the tables.
Meanwhile, solid tree trunk-like wine-coolers by famed contemporary wood artist Shuji Nakagawa from nearby Shiga Prefecture, are inspired by usu-mochi, traditional wooden rice-pounding mortars for making mochi sweets.
Ceramics are another highlight, with table tops and interiors deftly interspersed with the wabi-sabi edges of Japanese pottery by artists such as Asuka Juba and Toru Hatta alongside the nature-inspired Danish aesthetics of Ann-Charlotte Ohlsson and Kristine Vedel. 'The colour palettes play off both worlds,' explains Rudolph. 'The darker tones being more Japanese, the tonal earthy tones coming from Scandinavia.'
For OEO Studio, a key challenge was balancing the integrity of the existing design, originally for a bistro-style restaurant, with Noma's essence – resulting in the removal of ornamentation, furniture and lamps, while the floor grouting was darkened to create a monotone grey.
'The menu of Noma Kyoto is sorely based on ingredients and produce from Japan and that is also our approach in the design with a few exceptions,' adds Lykke. 'Noma Kyoto is uniquely Noma Kyoto, just for ten weeks, even though it has taken us and the Noma team two years in the making.'
Noma pop-up at Ace Hotel Kyoto runs until 20 May 2023