Maarten Baas' jet in a Milanese church pushes the boundaries of denim design
G-Star Raw presents 'More or Less' at Milan Design Week 2023, featuring a recycled denim plane and furniture by Dutch Designer Maarten Baas in a Milanese church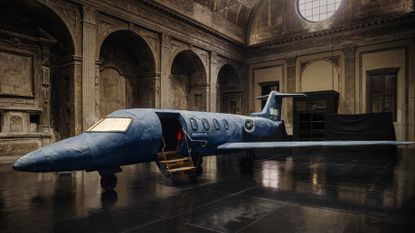 (Image credit: Courtesy G-Star Raw)
For Milan Design Week 2023, denim giant G-Star Raw has teamed up with Dutch designer Maarten Baas to explore sustainable practices in its free exhibition 'More or Less'. Open until 23 April, this thought-provoking collaboration aims to push the boundaries of denim design while addressing issues surrounding waste, consumerism, and mass production.
G-Star Raw presents 'More or Less' by Maarten Baas
Presented inside the spectacular San Paolo Converso church in Piazza Sant' Eufemia, the display showcases an impressive jeans-clad private jet as well as a quirky triptych of art pieces. G-Star approached Baas to compose a series of recycled denim installations after seeing his portfolio of provocative projects. The Dutch creative, who is renowned for creating unconventional, playful, and humorous work (including a playground with Henge for Wallpaper* Handmade in 2018), opted to design something that would make visitors stop, reflect, and question the environmental implications of the fashion industry.
'I chose to wrap a private jet in denim as it's a symbol of luxury and fast economy and I wanted this to be contrasted with a sustainable material.' The 15m-long plane masterfully wrapped in a denim skin is made up of recycled tiles of varying sizes. The result is a visually intriguing installation that commands your attention as you enter the lofty space. 'I wanted to achieve something that everyone could engage with. Everyone can appreciate jeans, from children to bank directors,' says Baas.
Downstairs in the crypt, a trio of functional jeans-shaped cabinets can be found. Inside them hang denim trousers, adding to the playfulness of the project. Each structure is made from recycled G-Star fabric developed by Kvadrat Really. For both the furniture and the private jet, clothes were collected from G-Star's stores across Europe via the brand's 'Return your Denim' programme, which allows customers to return their old garments to be recycled.
While the cabinets can be purchased, the denim plane will later become part of G-Star RAW's art collection. At the exhibition, visitors also can also get their clothes emblazoned with the statement 'More or Less' via G-Star's screen-printing machine and see a pair of vibrant light installations at the front of the building.
For Baas, this exhibition is a testament to G-Star's bold, forward-thinking approach. Founded in 1989, the global brand has a track record of striving for creativity beyond the world of fashion. 'We believe that there is no limit to what denim can do and, in this case, we're spotlighting what our waste can become, and how we can change it into something meaningful,' says CMO of G-Star RAW Gwenda van Vliet.
'More or Less' creates a well-needed dialogue between luxury and sustainable practices. Continuing the same trajectory as Baas' projects such as Smoke, Clay, and Real Time, in this exhibition Baas seeks to address contemporary issues while challenging designers to think beyond aesthetics. 'The message here is that we are all struggling with the same dilemma when it comes to sustainability. We are making steps forward, but we are not there yet.' These aren't issues exclusive to the design industry but the entire planet. So, while people may desire more, the planet simply needs less.
'More or Less' by Maarten Baas for G-star Raw is on view until 23 April 2023
Chiesa di San Paolo Converso
Piazza Sant' Eufemia
Milano