A new MoMA exhibition explores the materials of contemporary design
'Life Cycles: The Materials Of Contemporary Design' is now open at MoMA (until 7 July 2024), a display of global design rethinking contemporary life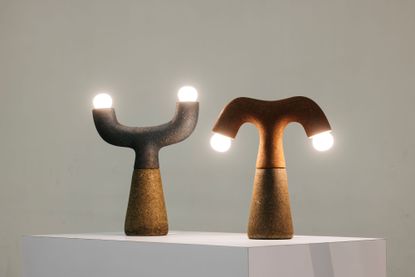 (Image credit: Photo: Studio Periphery. Courtesy MoMA)
Wallpaper* Newsletter
Receive our daily digest of inspiration, escapism and design stories from around the world direct to your inbox
Thank you for signing up to Wallpaper. You will receive a verification email shortly.
There was a problem. Please refresh the page and try again.
In some ways, the exhibition 'Life Cycles: The Materials Of Contemporary Design' has been in the making for a lifetime. Now open at the Museum of Modern Art in New York (until 7 July 2024), it's the culmination of a year-long effort – and a year in museum-time is a very quick clip.
'You could say that I kind of crafted the exhibition a long time in advance,' says Paola Antonelli (a former Wallpaper* Design Awards judge), long beloved for her contributions at MoMA, where she's the senior curator of Architecture and Design (and has been with the institution since 1994). 'I am pretty much responsible for all the acquisitions of the past 30 years.'
'Life Cycles: The Materials Of Contemporary Design'
Composed of some 80 objects from 40 design and art practitioners (and almost entirely pulled from MoMA's collection), the show is both a prompt and a continuation of a thread. As the title itself lays out, it's an exploration of materials and their lifespan - with time being of the literal essence. This go-around, it's a consideration of how these materials function from extraction to use/re-use to disposal. Says Antonelli, 'It's about rereading [these works] in the context of today, in the context of the environmental crisis, and new ways to build and new ways to design.'
Out from the archive comes iconic pieces of design like Nendo's Cabbage Chair, 2007, and Tomáš Gabzdil Libertíny's The Honeycomb Vase "Made by Bees," 2006, originally acquired for their novel materiality. The Cabbage Chair, made from by-product paper waste from Issey Miyake's fabric pleating process, is a lesson in circularity; while The Honeycomb Vase, produced entirely from bees themselves, is the embodiment of zero-waste.
These well-known examples are framed beyond something novel or beautiful - though, 'the opposite of beautiful is not ugly, but it's lazy,' Antonelli is quick to point out. 'Formal intention and elegance are a means of communication. They're almost like a human right. First, who says that something has to be badly designed and sloppy to be serious? You know, this is such an old and formalistic view of the world.'
And that formalism has largely descended from Western-centric Platonic ideal, and so Antonelli was eager to include practitioners from the Global South who are incorporating indigenous and non-Western attitudes towards sustainability, such as Fernando Laposse's corn-husk 'Totomoxtle' and Adhi Nugraha, whose 'Cow Dung' lamp series from 2021, takes on contemporary aesthetic tastes but built from a most abundant natural materials.
'There's a lot that is happening in the non-Western/northern hemisphere that can be even more educational for us designers to learn how to deal with climate change, and so we need to do more,' she says. It's also one reason Antonelli was so eager to commission Ghanaian-Filipina Mae-ling Lokko for a large-scale wall panel made of coconut shells and mycelium (mushroom), where the work's manufacturing came from naturally available forms of energy and materials. Lokko's work embodies progress and the next-era of design.
And doing more is ultimately what underscores this exhibition. It's less a prescription than it is an aesthetic call-to-action. 'Politics is life in a society and in the world. And design is a vital part of it,' says Antonelli, who also co-founded Design Emergency with the equally lauded Alice Rawsthorn. 'Design is a very powerful force to be reckoned with, and a tool to change the way things work in the world by changing people's behaviours.'
Persuading attitudes is perhaps one of the hardest arenas to inspire change, however: 'citizens are ready to pounce on being more responsible,' she says; and "Life Cycles" might just be the inspiration 'to concoct and a push to mix and compose and rethink the elements of contemporary life.'
Life Cycles: The Materials of Contemporary Design is on view until 7 July 2024
The Museum of Modern Art
11 W 53rd St
New York, NY 10019
Receive our daily digest of inspiration, escapism and design stories from around the world direct to your inbox
Julie Baumgardner is an arts and culture writer, editor and journalist who's spent nearly 15 years covering all aspects of art, design, culture and travel. Julie's work has appeared in publications including Bloomberg, Cultured, Financial Times, New York magazine, The New York Times, Wall Street Journal, as well as Wallpaper*. She has also been interviewed for The Atlanta Journal-Constitution, Miami Herald, Observer, Vox, USA Today, as well as worked on publications with Rizzoli press and spoken at art fairs and conferences in the US, Middle East and Asia. Find her @juliewithab or juliebaumgardnerwriter.com