'Honoré' collection by Elisa Ossino for De Padova is defined by graphic circularity
The 'Honoré' collection by Elisa Ossino for De Padova is among our Salone del Mobile 2023 highlights, featured in May Wallpaper*, on sale 13 April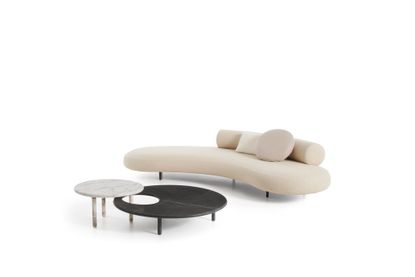 (Image credit: Francesca Moscheni)
Discover the Wallpaper* guide to Salone del Mobile 2023 and Milan Design Week
The Milan-based studio of Elisa Ossino is known for its geometric designs with surrealist references, and the 'Honoré' collection for De Padova is no exception.
The circular designs of the coffee tables, which can be mixed and matched depending on the space, bring an element of surprise to the table: the larger versions feature an unexpected off-centred hole, which can be used to link a series of tables in different finishes, like a group of friends huddled together.
'The "Honoré" low tables are conceived to convey an organic shape, expressing a natural and minimalist approach,' explains Ossino. 'It's almost like they are living characters and constantly connected with each other through their sculptural volumes and geometries.'
The coffee tables are available in four sizes and various finishes. These include a lacquered version offered in seven colourways, from Blue Jodhpur to Pebble Grey; a brushed resin version, suitable for use outdoors, which comes in either chalk or terracotta; and six different types of marble, including Calacatta, Valentine Gray and Emperador Dark.
'The projects that we create are defined by lightness and intensity, two apparently opposite concepts; we pay attention to the composition and the weight of the objects in the space with few but very strong marks, in which the objects themselves become symbols developing meanings,' says Ossino, whose first collaboration with De Padova was a spherical lamp, 'Elementi', in 2018.
The 'Honoré' collection also features an organic sofa whose curved seat and backrest recalls Isamu Noguchi's classic 'Freeform' sofa. It is defined by the circular graphic sign of the roller and distinctive turned wooden feet.
De Padova, Via Santa Cecilia 7 / Via Manzoni Via Manzoni 17
Look out for more May 2023 issue of Wallpaper*, on sale 13 April, for more Salone del Mobile previews. Wallpaper* is available in print, on the Wallpaper* app on Apple iOS, and to subscribers of Apple News +. Subscribe to Wallpaper* today
Léa Teuscher is a Sub-Editor at Wallpaper*. A former travel writer and production editor, she joined the magazine over a decade ago, and has been sprucing up copy and attempting to write clever headlines ever since. Having spent her childhood hopping between continents and cultures, she's a fan of all things travel, art and architecture. She has written three Wallpaper* City Guides on Geneva, Strasbourg and Basel.