Helsinki Design Week 2023: best of Finnish design and more
Our highlights from Helsinki Design Week, including the best from Habitare fair and new ideas in design and living from Finnish and international talent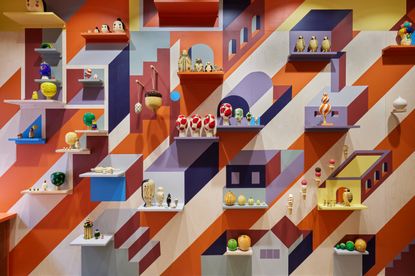 (Image credit: Courtesy Salakauppa)
For a city that boasts its own director of design, it's no surprise that Helsinki Design Week is a good time to visit. Museums host blockbuster openings, showrooms pull out all the stops and Finland's hottest talents exhibit at the main fair, Habitare. The whole city is abuzz with more than 250 events that span the spectrum from student graduation shows (Aalto University joined in for the first time this year) to new ranges from big hitters (Arabia unveiled its debut collection of Moomins textiles) to striking solo shows (outsider artist Maria Tani crochets her colourful sculptures).
During the pre-pandemic era of mega fairs, Helsinki's remote location was seen as disadvantageous, but increasingly, its less-crowded latitude is something to be cherished. Around 99 per cent of the 130-odd exhibitors are Finnish, which gives it 'a local flavour and a strong identity', says Habitare's creative director Laura Sarvilinna. What's more, the city's midcentury gems, such as Alvar Aalto's home and studio and the 1960s studio of nonagenarian design legend Yrjö Kukkapuro are well preserved and easy to visit.
Here's what stood out at this year's fair (8 – 17 September 2023).
Helsinki Design Week 2023: Wallpaper* highlights
All over the city, blond woods and clean lines were in strong supply along with pops of colour and a particular Nordic attitude to light. For Håkan Långstedt, CEO of lighting company Saas Instruments, this means emphasising darkness as much as light; an idea he put into practice with theatrical flair at a dinner for 130 people in a derelict concrete bunker in the city centre.
Finland, South Korea and Japan share a love of nature and of simplicity of objects, and crossovers and collaborations are common. Finnish designer Esa Vesmanen of Finom and Japanese designer Akira Minagawa of Minä Perhonen have been collaborating on furniture for three years, and a 'forest retreat' of Finom plywood lights and Minä Perhonen textiles debuted at Helsinki Design Week headquarters in a former industrial building downtown. 'We share (with the Japanese) this animistic idea that everything is connected, and we are both close to nature,' explains Vesmanen.
It's a view also shared by Korean designer Aamu Song and Finnish designer Johan Olin co-founders of Company, who migrated from a kiosk in the city centre to a new Salakauppa or 'secret shop'. Painted walls depict the factories and workshops of the craft masters they collaborate with, and 'best ofs' from their travels in Russia, Mexico, Japan and Estonia are on sale.
Sustainability and climate consciousness were front and central at Habitare, where a section dedicated to vintage and pre-loved, dubbed Franckly, displayed glassware from Riihimäen Läsi and Artek chairs. Its top tip? Shelving units from Lundia in once old-fashioned pine. Every household had one (Lundia, meanwhile, showed new bookshelves in oak).
Jussi Laine and Maria Klemetti Laine of Nemo architects dressed as lab technicians and hosted a 'materials library' in collaboration with 29 Finnish firms. Visitors were encouraged to browse products, from striped painted wood to mycelium, and organise them into mood boards at 'collage tables'. It made for a popular distraction. 'Normally, at trade fairs, visitors are discouraged from touching anything,' says Laine. 'We want visitors to think beyond the surface of materials, to play, experiment, and create something new.'
Playfulness was at play at Basta, the latest collaboration between Marcel Wanders and Casper Vissers. Specialising in the local production and delivery of affordable furniture, the Basta range so far consists of sofas made in PET fabrics that can be configured individually, and wooden side tables. All pieces are ordered and made locally by locals in local materials. They are then delivered in recyclable packaging by eco vehicles. With showrooms already in Amsterdam and Helsinki, Basta opens next year in Copenhagen, Stockholm and Antwerp.
All across the city, cinnamon buns and champagne flowed, and landmark destinations hosted special shows. Textile house Lapuan Kankurit celebrated its 50th anniversary with new towels, blankets and scarves, and leading design gallery Lokal took works by its favourite makers and artists to the fair.
On the seafront, Löyly launched its first home sauna. Designed by Avanto, the architects of what has become Helsinki's most popular tourist attraction, the new Aito sauna can be installed anywhere without foundations. Will it pitch up at the next year's fair offering visitors a little R&R? We will have to wait and see.
helsinkidesignweek.com
habitare.fi
Receive our daily digest of inspiration, escapism and design stories from around the world direct to your inbox
Emma O'Kelly is a contributing editor at Wallpaper*. She joined the magazine on issue 4 as news editor and since since then has worked in full and part time roles across many editorial departments. She is a freelance journalist based in London and works for a range of titles from Condé Nast Traveller to The Telegraph. She is currently working on a book about Scandinavian sauna culture and is renovating a mid century house in the Italian Lakes.