Perfect sleeping partners, Hästens' 2000T bed and Blue Check mark 45 years
Hästens 2000T bed and bold Blue Check pattern are still a dream ticket for a good night's sleep in style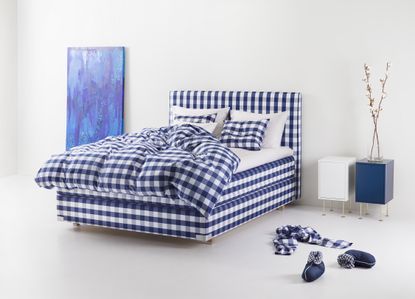 (Image credit: Courtesy Hästens)
Wallpaper* Newsletter
Receive our daily digest of inspiration, escapism and design stories from around the world direct to your inbox
Thank you for signing up to Wallpaper. You will receive a verification email shortly.
There was a problem. Please refresh the page and try again.
The Hästens 2000T bed and its iconic Blue Check pattern are celebrating their joint 45th anniversary this year. Brought to the world by fourth-generation CEO Jack Ryde in the late 1970s, these handmade staples of the Hästens line have been in constant demand ever since, accruing lengthy waiting lists for an exclusive clientele, and garnering praise for striving towards extraordinary sleep experiences.
Having been crafting beds since the 19th century, Hästens entered the 1978 Stockholm Furniture Fair looking to distinguish its brand with a distinctive, high-quality pattern that could catch the eye. At the time, fashion dictated a slew of 1970s essentials for a bed's colour palette: browns, oranges and avocado green
Hästens' blue check bedfellows
However, Ryde had other ideas. As a design enthusiast, searching for a fresh approach, he created a blue and white chequered pattern to flaunt the expectations of his time, leading to roaring success. Nearly five decades later, the Hästens Blue Check has become synonymous with the brand's exceptional bedding, acting as an immediate stamp of quality and a conspicuous statement for any bedroom.
Having challenged the status quo with its pattern, the Hästens 2000T bed set out to provide cutting-edge design and uncompromising comfort. The culmination of an exceptional heritage, dating back to 1852, the 2000T is the product of a relentless quest for ideal sleep – developed with a profound insight into the human body, a unique knowledge of the natural materials used during assembly, and craftsmanship honed over generations.
The bed itself, whose three layers comprise a base, a middle mattress and a topper, contains over 200kg of carefully selected materials, and includes the traditional use of horse hair within a mattress structure that allows for firm support as well as airing to keep customers cool. Meanwhile, an adaptable composition, deploying three separate spring systems, flexes according to the sleeper's movements, adjusting to all kinds of bodies and keeping their partners undisturbed.
More than the celebration of a product, the Hästens 2000T bed and Blue Check anniversary provides an opportunity to examine the relationship between intrepid and innovative choices alongside the hard-won talents of a high-quality tradition. Each has their merits; whether providing unique interpretations of fashion and design, or upholding the integrity of a family's work. In Hästens, we can see the benefits of integrating both philosophies together. The result is an exquisitely crafted and visually pronounced work, defined by the pursuit of a single idea.
Hästens prides itself on the good rest of its customers. By drawing on the brand's history, while making decisive steps forward, the 2000T bed and Blue Check pattern became the launchpad for decades of success. It's time for designers to give it a second look.
The Hästens 2000T bed is available in Blue Check through company stores and global partners, hastens.com
Receive our daily digest of inspiration, escapism and design stories from around the world direct to your inbox