Lambert+Fils pop-up bar in Montreal is designed as a lighting performance
Lambert+Fils and Bruises Gallery team up on Bar Lanterne in Montreal (until 13 October 2023)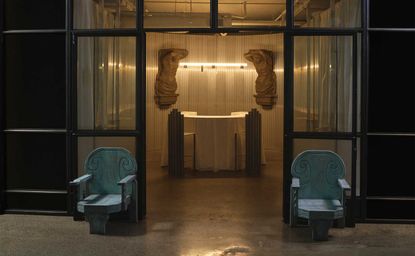 (Image credit: Mathieu Fortin)
Canadian lighting brand Lambert+Fils is once again asking you to raise a glass. Following its successful Caffè Populaire project held at Alcova during Milan Design Week in 2019 and 2021, the brand has teamed up with Montreal-based Bruises Gallery to create Bar Lanterne, a pop-up wine bar in its headquarters on rue Hutchison, in the city's Mile End neighbourhood, open until 13 October 2023.
Bar Lanterne by Lambert+Fils
'Bruises are very mysterious,' says Lambert+Fils' Samuel Lambert, describing what first drew him to collaborate with the itinerant design gallery headed up by Florence Provencher-Proulx and Isaac Larose-Farmer. 'We'd always had a secret admiration for them, they're a bit underground, like a secret bar. You plunge into a universe.'
They found common ground in their shared involvement in Montreal's nightlife scene. 'I was the owner of Laika, a seminal electronic music bar and restaurant,' explains Lambert. 'And Isaac of Bruises was the host of Jazz and Tarot, a popular night with live jazz and Tarot readings at Datcha, a night club here in the city.'
A bar, clearly, was the natural choice for the collaboration. Setting up shop in Lambert+Fils' storefront gallery space, the concept, Bruises' Provencher-Proulx tells Wallpaper*, was to 'create an oversized lantern visible from the outside of the bar and an intimate, sanctuary-like ambience within'.
Lambert+Fils took advantage of the project to show off its newly launched 'Isle' collection, created in collaboration with Edmonton-born, New York-based designer Zoë Mowat, and one of Wallpaper's highlights of New York Design Week 2023. The hanging pendant lamp is formed of a glass tube interspersed with aluminium and marble stone blocks of varying sizes. However, Lambert+Fils made a custom monochromatic aluminium version of the lamp for Bar Lanterne. 'It's the only light source in the bar, which gives it extra ambience,' says Lambert.
The design of the interior was given over to the Bruises team, who had free rein to interpret the concept as they pleased. They came up with a mise-en-scène that utilised extruded aluminium tubes that mirror the form of the 'Isle' lamp's body. They show up along the walls of the installation, as well as in the backrest of the 'Darius Organ Stools', which were custom-made for the occasion from leftover extrusions from Lambert+Fils 'Silo' collection and resemble the pipes of the namesake instrument.
'We used the extrusions directly from the material library, industrial and raw, without altering them too much,' says Lambert, who explains that once the installation is disassembled, the extrusions will return to Lambert+Fils stock. 'It's kind of the idea of ready-made, keeping the original material but putting it in a new context.'
Bruises also added some surprise elements, which provide a playful counterweight to the otherwise industrial styling. 'We came up with a system to pour wine from the ceiling using a tube from "Isle", which added a theatrical, almost ritualistic element,' says Lambert. While the two busts that peer over the bar may appear to be ancient artefacts swiped from a museum, they are, in fact, props from 2006 gladiator film 300.
According to Provencher-Proulx, the team also made sure to incorporate local artisans and businesses wherever they could. Montreal-based Jérémie St-Onge of Verre d'Onge designed a series of carafes for the project, which 'look like artefacts with Verre d'Onge's signature sandblasted finish [and] contribute to the sanctuary feel of the installation', says Provencher-Proulx, who adds that they serve local wine from Lieux Communs and beer from Wills, a newly founded Mile-Ex microbrewery.
'Montreal is small but loves to celebrate,' reflects Lambert. 'There's a nice design, arts, and architecture community right now, we wanted to do something intimate and personalised for that community. At the end of the day the bar is bordering an installation – almost a performance or ritual.'
Bar Lanterne is open until 13 October 2023
6250 Rue Hutchison
suite 100
Montréal, QC H2V 4C5
Receive our daily digest of inspiration, escapism and design stories from around the world direct to your inbox
Laura May Todd is a Canadian-born, Milan-based journalist covering design, architecture and style. In addition to the Italian dispatches she writes for Wallpaper*, she regularly contributes to a range of international publications, including T: The New York Times Style Magazine, Architectural Digest, Elle Decor, Azure and Sight Unseen. Prior to her work as a journalist, she was assistant editor at London-based publishing house Phaidon Press.