Are vegan eggs the new skincare superfood?
New skincare brand Superegg whips up an unlikely recipe for smooth skin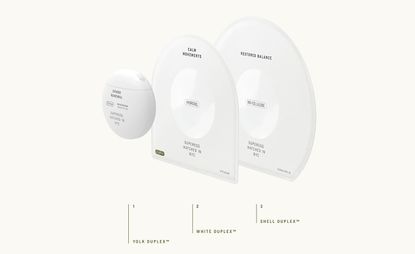 (Image credit: superegg.nyc)
In the last century of Korea's Joseon Dynasty, a beauty guidebook called Gyuhap Chongseo published a recipe of eggs and liquor that promised blemish-free, glossy skin. Fast forward 150 years and eggs are still a commonly used ingredient in Korean skincare, appearing in everything from hair oil to face masks.

Each element of the egg is believed to possess special skincare enhancing qualities – the yolk hydrates and brightens, the white firms and lifts, while the eggshell reduces redness – and all can be blended together to create a supercharged skin enhancer.
The newly launched skincare brand, Superegg, hopes to offer the skin secrets of the standard egg in a format that appeals to more environmentally conscious consumers. Namely, a vegan egg substitute, designed to mimic all the properties of its forebear through a unique combination of vitamins, minerals, and proteins.

Superegg's formulation is devised of three different 'duplexes', each formulated to imitate the nutritional properties of the egg yolk, white, and shell respectively. The 'yolk duplex' contains 24 vegan ingredients including vitamin E, chicory root acids, and amino acids for hydration and brightening, the 'white duplex' uses a complex of tremella mushroom and soy protein to firm skin, while the 'shell duplex' uses yellow legume seeds and Syn-Hycan (a vegan hyaluronic acid booster) for fine line reduction.
Superegg is an intriguing new player in vegan skincare, an arena that is speedily growing as more and more people realise, and become uncomfortable with, the animal by-products that are commonly found in beauty products. Ingredients like tallow, rendered animal fat that is often found in lipsticks and cosmetics, or collagen and regional, two common skincare ingredients.

Currently available as a moisturiser and cleanser, Superegg is one of the first skin brands for whom recreating a single animal product is the basis of its design. Let's see what they whip up next.
INFORMATION
superegg.nyc (opens in new tab)
Mary Cleary is the Beauty & Grooming Editor of Wallpaper*. Having been with the brand since 2017, she became an editor in February 2020 with the launch of the brand's new beauty & grooming channel. Her work seeks to offer a new perspective on beauty, focusing on the pioneering personalities, product designs, and transformative trends within the industry.