Iconic hair stylist Julien d'Ys creates otherworldly sculptures from wigs and found wonders
Julien d'Ys, fashion's great hair iconoclast, debuts his new artistic career with sculptures – created exclusively for Wallpaper* – that collage together everything from wigs to dried seaweed and noodles. With photography by Ilker Akyol.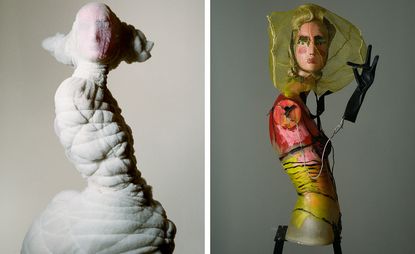 (Image credit: Ilker Akyol)
Julien d'Ys is saying goodbye to fashion. The influential hair stylist has been one of the industry's great renegades since the early 1980s, boasting a portfolio that includes a decades-long collaboration with Comme des Garçons' Rei Kawakubo, wig designs for the Metropolitan Museum's Costume Institute, the creation of Linda Evangelista's bob (which she credits with quadrupling her rate), and the hair on Madonna's Re-Invention tour, as well as working with some of fashion's greatest photographers, such as Irving Penn, Peter Lindbergh, Annie Leibovitz, Paolo Roversi and Steven Meisel.
Julien d'Ys creates sculptures for Wallpaper*
But d'Ys (born Pierrick Le Verge) always thought of himself as an artist first, and he'd been growing increasingly disappointed with an industry he feels hems him in. 'My whole life, working for magazines and designers, I've created for them,' he says. So we invited him to create images without direction. 'Working with Wallpaper*, I was free to do something very personal, to show that my creativity can go very far away and be very extreme.'
To create the pieces here – also showcased in the March 2022 issue of Wallpaper* and on the limited-edition subscribers (opens in new tab)' cover – d'Ys walked the streets of Manhattan, from Chinatown to Harlem, sourcing miscellanea from open-air markets and antique shops, finding creative potential in what others, with less of an eye for the miraculousness in the marginal, might simply call junk. He also went back into his extensive archives, pulling out iconic wigs and headpieces that once graced catwalks and magazine pages.
He found pieces like the towering wigs of The Bee, originally designed for an editorial shoot, which d'Ys has now repurposed into a plague doctor-like mask and outfitted with a set of chopstick wings. And the bouffant wig on La Dame de L'Opéra, which previously adorned a Gibson Girl at the Costume Institute, but now sits on a mannequin that d'Ys painted and draped in flea market pearls. Over the course of two days, d'Ys worked in a trance-like frenzy to collage the pieces into avatars of the many characters that populate his mind.
These characters include Gainsbourg, the corn-smoking loafer with features made out of mushrooms from a Chinatown market. And La Plume du Ris, an amorphous, bird-like figure inspired by the blocky abstraction of Picasso's portraits, featuring a white feather in homage to Plage du Ris, a beach near d'Ys' hometown in Brittany, black wings made from dried seaweed, and hair made out of noodles.
As with most of d'Ys' work, he began with little notion of what the finished project would look like. Rather, he allowed the look and story of the work to metamorphose as he created it, careening from one character portrait to another. Throughout the process he made sketches in his 'Wallpaper*' notebook, recording the development of a piece or the bubbling of a new idea.
Every step of the process was captured by his longtime collaborator, photographer Ilker Akyol. D'Ys' final creations are dream visions that blend his historic oeuvre with the quotidian detritus of modern life to create something beguiling and novel. In his opinion, the role of the artist is to offer a glimpse into an alternate reality, one that is more spectacular than what we encounter in our everyday lives.
'I think people need to dream more. To see more beautiful things. You look in a magazine [today] and see reality, you see the same things you just saw on the street. Everything looks real now, everything looks normal, everything looks like the way we live. For me, when you show something in a magazine, you have to be different, you have to make people react, to [motivate] their creativity.'
So we invite you to take a journey down this visual escape hatch created by Julien d'Ys and see what inspiration you find. As he puts it himself, 'What I did here is like dreaming, it is very strange. Maybe people are going to get it, or maybe not, but I hope so.'
INFORMATION
@juliendys (opens in new tab); @ilkerakyl (opens in new tab)
A version of this story appears in the March 2022 Style Issue of Wallpaper*: subscribe today (opens in new tab)!
Mary Cleary is the Beauty & Grooming Editor of Wallpaper*. Having been with the brand since 2017, she became an editor in February 2020 with the launch of the brand's new beauty & grooming channel. Her work seeks to offer a new perspective on beauty, focusing on the pioneering personalities, product designs, and transformative trends within the industry.