Body-only skincare brand Soft Services beautifies below your neck
Demystifying, destigmatising and solving icky body issues – enter Soft Services, beautifying even the bits you don't want to talk about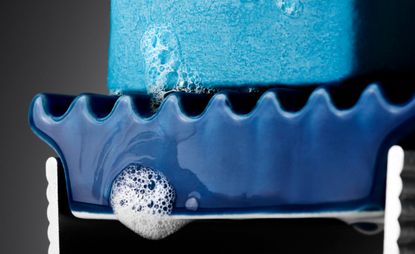 (Image credit: press)
Wallpaper* Newsletter
Receive our daily digest of inspiration, escapism and design stories from around the world direct to your inbox
Thank you for signing up to Wallpaper. You will receive a verification email shortly.
There was a problem. Please refresh the page and try again.
Brooklyn-based Soft Services co-founders Rebecca Zhou and Annie Kreighbaum, CEO and chief creative officer respectively, met at beauty giant Glossier during its early days. Zhou is a digital wizard who breezily navigates building a brand's technical backbone to create an intoxicatingly smooth user experience. Kreighbaum has a golden touch for storytelling and product development. Between them, these early adopters have an arsenal of of-the-moment skincare, digital and consumer knowledge. 'We are left brain, right brain, art and science,' says Zhou.
Launched in May 2021, Soft Services had been in development for two years. 'We really started working on this in Jan 2020; most of the company was built during Covid,' says Zhou.
Soft Services: 'Not your face's skincare'
'Beauty is what we are obsessed with, but we had fatigue about the industry,' says Kreighbaum. When Zhou was having difficulty finding a wedding dress that would cover breakout scarring on her back – something Kreighbaum was also familiar with – it made them both stop and think. 'I thought, why are we both 30 and still dealing with body acne, when I have a serum and a treatment for everything on my face?' says Kreighbaum. 'And once I started pulling at that thread, I realised that all through my career as a beauty editor, the stories that took off online organically were about niche body skin issues – issues that were being completely overlooked by the beauty industry.'
Tech-driven bodycare
'By reviewing search trend data we could see that hundreds of thousands people were searching body concerns like keratosis pilaris [when hair follicles are blocked by a keratin build-up], body acne, ingrown hairs, tinea versicolor [a fungal infection affecting pigmentation], and stretch marks, and they are ending up nowhere in terms of content and physical product,' says Zhou.
The duo promptly started researching how best to address these whispered yet prevalent body concerns and how to create the products that would help thousands of people. Crucially, they focused on ingredients and treatments with proven data behind them: some beauty brands include only a smidgen of the active ingredient, so they can't deliver results on certain claims. Soft Services' star products include an exfoliating Buffing Bar, Carea Cream (which uses the 'work horse' ingredient urea) and a 10 per cent sulphur Clearing Clay (the highest potency for treating acne).
Perfect timing for icky body issues
A dramatic culture shift means the stage is set for a new brand that is looking to address the icky, unglamourous side of bodycare. Shame and fear-marketing associated with issues such as acne have been replaced by tell-all videos of girls broadcasting confidence about their zits on TikTok. 'We want to be a brand that breaks down the taboo of these issues while creating effective products that solve these issues,' asserts Zhou. 'We are not trying to be a lifestyle brand, we just want to solve problems.'
Kreighbaum adds, 'We noticed that Americans are becoming less prude about the human body. Hot people have these issues too! It's not a result of not taking care of yourself.'
Fully integrated sustainability
The duo are building every part of the business so that it is scalable in an efficient, responsible way.
'Elastic branding': 'We wanted to create a system of efficiencies so that we were not giving ourselves headaches trying to maintain uniformity,' says Zhou, of the intentionally unique look they have given to each product. 'I've seen situations where tens of thousands of units get scrapped because of colour matching issues.'
Encouraging re-use: Not all components can be recycled, so certain items such as the bottle pump are treated reverentially to last and last. 'It's presented in a box that highlights its engineering and customers are given a money-off voucher when they buy a refill.'
Post-consumer recycled materials: 'The cap on the clearing clay is a cloudy beige colour, but there's no way to get consistency when you're using plastics that have had a life before, so we just embraced it,' says Zhou.
Local first: For now, the duo are working with exclusively US-based labs. 'A bit of insider [info] on that,' says Zhou. 'Often, a lot of the labs here in the US are run by Korean expats, so when you meet the CEO of the lab, they are Korean with a team they have brought over, and with them certain expertise. It's a culture there,' she says of Korea, which is known for its innovative formulas and textures.
Reducing digital waste: A small website, simple product pages, not posting on social media every day, all plays into considering the power needed to drive the server.
INFORMATION
Receive our daily digest of inspiration, escapism and design stories from around the world direct to your inbox
Tilly is a British writer, editor and digital consultant based in New York, covering luxury fashion, jewellery, design, culture, art, travel, wellness and more. An alumna of Central Saint Martins, she is Contributing Editor for Wallpaper* and has interviewed a cross section of design legends including Sir David Adjaye, Samuel Ross, Pamela Shamshiri and Piet Oudolf for the magazine.