Artist Shirin Neshat's advice on simple skin care
The New York-based Iranian artist, who is internationally recognised for her photographs and films with female protagonists, follows a rigid yet simple skin regimen to ease a hectic schedule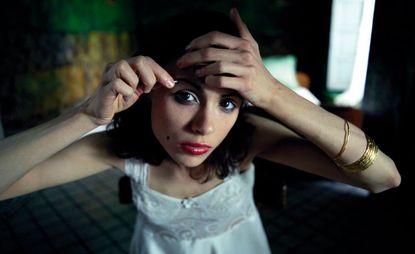 (Image credit: TBC)
There are artists inseparable from a style, not just artistically that is, but a signature touch complimenting their creative aura. Salvador Dali had the arched mustache; Louise Nevelson always donned a flamboyant hat. Or, have you ever seen Tauba Auerbach without her evenly split hair-do? Similarly, Shirin Neshat's dramatic eyeliner is an element of beautification but, more than that, it is also a gesture of artistic resilience and cultural celebration.

'My style and the way I present myself helps give me the confidence to live and work the way I do, which is something I do not take for granted,' Neshat tells Wallpaper*, admitting that she never goes out in public without her eye makeup. The global powerhouse is recognised for her black and white photographs of sitters adorned with calligraphy over faces or palms, not quite unlike her bold eye make-up. Surprisingly, however, the Brooklyn-based artist is merely interested in make-up beyond the eyes.
When it comes to skin, her passion is face masks, which Neshat considers a sweet escape to end a hectic day or a monotone one, spent lately in isolation with her husband and their dog at their Upstate residence. 'I am religious about moisturiser and masks,' she says, but forgoes top-end names for New York's own Kiehl's. She recommends the 159-year-old brand's Rare Earth Deep Pore Cleansing Mask for a once-a-week treat.

'Rejuvenating my skin helps me get rid of the idea that it doesn't matter,' she says about her current facial rituals in the country, where she stays active through online dance classes. Neshat has been using skin akin to a painter's canvas in her photographs and videos for three decades, so aging and changes on the skin have been a part of not only her personal journey but her profession, too.
'Writings on my hand would look different now than they did when I first photographed them,' contemplates the 63 year old, who also uses her favourite brand's Super Multi-Corrective Cream, as well as a recent discovery: NIA24 Eye Repair Complex. 'If I stop caring about my body, which I believe is my biggest instrument, then you can start worrying about me,' muses the Iranian-born artist, who eventually favours simple and basic solutions over the hyped. 'I grew up with grandmother's Nivea cream, which, I think has influenced my approach to skin care.'
Receive our daily digest of inspiration, escapism and design stories from around the world direct to your inbox