Yves Klein artworks electrify Blenheim Palace's baroque interiors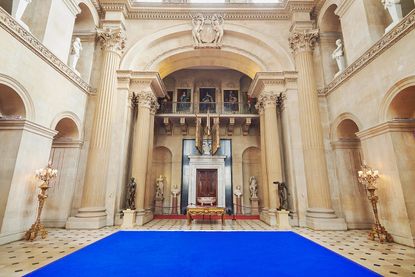 (Image credit: Tom Lindboe)
He's a household name yet 'most people do not know anything about Yves Klein', says Daniel Moquay, director of the late French artist's estate, and husband of Klein's widow, Rotraut. Moquay has helped to coordinate an exhibition on Klein – who would have been 90 this year – taking place in the spectacular settings of Blenheim Palace.

Klein worked fast and died young – he was only 34 when a heart attack took his life in June 1962, and he left behind a son, who was born in August that same year and nearly 200 monochrome paintings. His famous 'Blue Epoch', in which he invented what would become known as International Klein Blue (IKB), has to an extent eclipsed Klein's other major contributions to the mediums of photomontage and performance art.

Of course, doing a show on Klein without his IKB works would be like the Rolling Stones not playing Brown Sugar. In the historic Great Hall at Blenheim, a sea of Klein's dazzling blue greets visitors in a floor installation of the ultramarine powdered pigments that recreates his work, Pure Blue Pigment, from 1957. It is breathtaking and emotional – as Klein well understood: 'Art is total freedom, it is life; when there is imprisonment in whatever manner, liberty is restrained and life is diminished,' he said of the work at the time.
Seminal moments in Klein's brief but influential career are also explored at Blenheim in a famous IKB painting from 1961 – executed the year after the he officially registered his signature paint colour. Other sculptures provide surprises, against the ornate baroque interiors, such as the unusual 'sponge' sculpture, twirling whimsically in the air, and a pair of reliefs, also in blue, in the library.

'It brings exhibitions back to their origin when artworks were privately owned objects displayed in family homes alongside personal belongings,' explains Michael Frahm, director of Blenheim Art Foundation. 'We like the juxtaposition, as it challenges conventional thinking around how to exhibit art to the public, how art and stately homes should be presented, how we view and preserve our culture and heritage.'

This is more than a greatest hits with the added aesthetic frisson in their temporary, stately surroundings. Klein's 'canonical nature and timeless quality' as Moquay puts it, is undisputed, but Blenheim also want keep Klein relevant to today and encourage visitors from all walks of life to immerse themselves in Klein's blues and pinks, with their eyes and hearts as much as their minds.

'This is not a retrospective with a lot of mediation,' Michael Frahm insists. 'We want visitors to experience the exhibition in a visceral way first, to feel the work as well as read about it. This exhibition is as much about learning as about looking and discovering.'
INFORMATION
'Yves Klein Contemporary Art Exhibition' is on view until 7 October. For more information, visit the Blenheim Palace website (opens in new tab)
ADDRESS
Blenheim Palace
Woodstock OX20 1PP
VIEW GOOGLE MAPS (opens in new tab)
Charlotte Jansen is a journalist and the author of two books on photography, Girl on Girl (2017) and Photography Now (2021). She is commissioning editor at Elephant magazine and has written on contemporary art and culture for The Guardian, the Financial Times, ELLE, the British Journal of Photography, Frieze and Artsy. Jansen is also presenter of Dior Talks podcast series, The Female Gaze.