Continental shift: Whatiftheworld and Southern Guild join forces in Johannesburg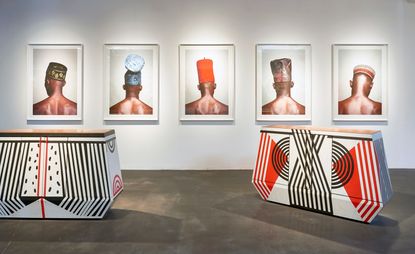 (Image credit: Anthea Pokroy)
Two of Africa's most influential galleries – Whatiftheworld and Southern Guild – joined forces recently to open a new platform in Johannesburg, a 300 sq m space in the StudioMAS-designed building in the Keyes Art Mile precinct. The two are renowned for shaping the continent's contemporary art and design scene and bringing its spectrum of talents to the international arena.

The list of names that they are representing will be familiar to globetrotters visiting the world's art fairs, and hail from as far afield as Senegal, Ghana, Burkina Faso and Mali, as well as South Africa. The inaugural show opened last week with artworks by, among others, Nigerian photographer Lakin Ogunbanwo, Zimbabwean sculptor Moffat Takadiwa and South African visual artist Athi-Patra Ruga. In addition were furniture and objects by leading designers such as Cheick Diallo and Hamed Ouattara as well as editions market darlings Gregor Jenkin, Porky Hefer and Dokter and Misses. The synergetic collection of work leads to a strong, united narrative. 'We're prepared to be non-conformist,' says Justin Rhodes, founder of the contemporary art gallery Whatiftheworld. 'What we're representing is a continental perspective.'

Both galleries were founded in 2008 and are headquartered in Cape Town's hipster district of Woodstock. Rhodes works with curator Ashleigh McLean on a roster of showcases featuring emerging artists, while Southern Guild's design gallerists Trevyn and Julian McGowan devote their energy to developing the region's first collectible designs platform. In the new space, the two retain their own names, but together they venture into interdisciplinary experimentation. 'We each have strong, unique viewpoints, a desire to change the status quo, and as our galleries and our artists have matured we have found we share an approach and audience. This opportunity to combine our voices, to explore the intersection of art and design, promises results greater than the sum of our parts,' says Trevyn McGowan.

Now, Southern Guild has teamed up with Porky Hefer to represent South Africa at the inaugural London Design Biennale, where the artist's fantasised handcrafted animal cocoon is on show. One can also see Whatiftheworld at UNTITLED, ART in Miami this December – if your travels are taking you west rather than south.
INFORMATION
For more information, visit the Whatiftheworld website, or the Southern Guild website
ADDRESS
19 Keyes Avenue
Trumpet
Keyes Art Mile
Rosebank
Johannesburg
Yoko Choy is the China editor at Wallpaper* magazine, where she has contributed for over a decade. Her work has also been featured in numerous Chinese and international publications. As a creative and communications consultant, Yoko has worked with renowned institutions such as Art Basel and Beijing Design Week, as well as brands such as Hermès and Assouline. With dual bases in Hong Kong and Amsterdam, Yoko is an active participant in design awards judging panels and conferences, where she shares her mission of promoting cross-cultural exchange and translating insights from both the Eastern and Western worlds into a common creative language. Yoko is currently working on several exciting projects, including a sustainable lifestyle concept and a book on Chinese contemporary design.