Victor Wong and his AI robot generate visionary Chinese ink paintings
Inventor-artist Victor Wong and his AI partner in art, Gemini bring ancient Chinese ink traditions into the contemporary conversation with new work at Lane Crawford Hong Kong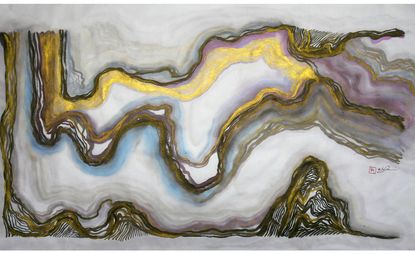 (Image credit: © Victor Wong and 3812 Gallery)
Hong Kong multi-media artist Victor Wong and his robot, A.I. Gemini, first captured our attention last year with their ink painting, Escapism 0001, commissioned by Cathay Pacific Airways for the front cover of its in-flight magazine. The artist's subsequent Far Side of the Moon series is proving equally beguiling: a contemporary landscape painted in the sweeping, infused tradition of Xieyi creates calligraphic forms through the pressure and slope of the brush.

These are on show alongside The Fauvist Dream of Gemini 03, a dramatic, new 69 x 47cm ink painting on rice paper, created specifically for the exhibition opening this week in an airy Lane Crawford atrium in Hong Kong's IFC mall, as part of the store's new 'Making Moments' creative programme.
Wong was keen to make the most of the non-gallery setting to provide an insight into how the world's first artificial intelligence ink artist creates the original 'mindscapes'. Alongside videos showing Gemini in action, dipping its brush into the real ink and water before sweeping brush strokes across traditional Xuan rice paper, the new painting is also presented as a high-resolution digital art image on a Samsung Frame television. Customers purchasing the television set will receive a digital copy of the work of art. Gemini's Dream 03 marks a new look with both mauve acrylic and gold paint added for the first time.
Wong's background studying physics and electrical engineering is core to his work, which also includes creating digital and special effects for feature films, many of which have won international design awards. A.I. Gemini took three years to build and programme, and the artist began by experimenting with converting the genesis of geological landscapes into formula which he 'fed' into Gemini's 'mind', adding the ability to identify the best photographic angle. The upshot is that Gemini has its own recognisable style and not even Wong knows what the final result will be.
'The landscape does not exist anywhere apart from in Gemini's "mind",' Wong explains. 'I didn't want my AI to copy me; I wanted him to learn from me. We feed off each other.'

While Gemini's Fauvist Dream of Gemini 03's lines and shading exude the sensibility of traditional Chinese paintings, the piece also feels fresh and contemporary – as well as quietly disruptive raising timely questions about what science and technology offer in the exploration of new possibilities for the contemporary expression and future development of ink art. Wong x A.I. Gemini are exclusively represented by 3812 Gallery.
INFORMATION
'Making Moments', until late June, Lane Crawford Hong Kong. lanecrawford.com (opens in new tab)

ADDRESS
Lane Crawford
8 Finance Street
Central, Hong Kong
VIEW GOOGLE MAPS (opens in new tab)