FF Projects brings Image Impressions to the Vaughan-Richards House in Lagos
A collaboration between art and architecture, the new Image Impressions exhibition at the Vaughan-Richards House is curated by FF Projects founder and creative director Faridah Folawiyo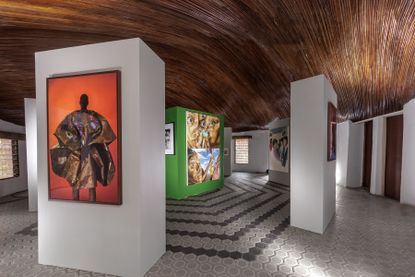 (Image credit: Benson Ibeabuchi)
'It was important, especially in Lagos, to have an exhibition in a house because growing up here, we didn't have a museum or gallery culture, so the way in which we saw art was in the homes of other people,' explains Faridah Folawiyo.
She is the founder and creative director of FF Projects, whose latest show, "Image Impressions", just opened, is a group exhibition featuring the work of twelve artists at the Vaughan-Richards house, the family home of the late tropical modernist architect Alan Vaughan-Richards that is now home to his film-maker daughter Remi Vaughan-Richards.
Folawiyo has become a noted voice in the contemporary African art landscape and whilst she eschews the title of gallerist ('I always wanted to be a curator and writer foremost') she acknowledges her equally pivotal role as an amplifier of an ecosystem abundant in talent both locally and in the wider African Diaspora.
'My general way of working is thinking about black art and black hands and the connections I can make between black artists and collectors.' She has become best known as a champion of early career artists with a particular passion for centering female voices: 'I want to be able to be that conduit. I am friends with a lot of the artists, and it is an incredible community that I can relate to on a generational level but also see the growth in their work.'
The exhibition posits studio photography and paintings side by side, with Folawiyo inviting viewers to consider the role that both play as co-creators in contemporary African art. She elucidates: 'Photographs have done so much for us. Both in terms of shaping our visual identity shaping our visual culture, and specifically the studio photograph. So I wanted to celebrate that, I wanted to think about photography on a par with painting, explore the relationship between the two and show how they constantly feed each other. There is a symbiotic relationship between both mediums particularly in Nigeria and the rest of the continent.'
Artists on show include historical greats such as J.D. 'Okhai Ojeikere alongside contemporary voices such as Chinaza Agbor, Esiri Erheriene-Essi, Helena Foster, Ekene Emeka-Maduka, Logo Olumuyiwa and Lakin Ogunbanwo.
The Vaughan-Richards House hosts Image Impressions
The Vaughan-Richards House acts as both setting and edificial interlocutor, as the show is installed in 'The Dome', a geodesic dome that Alan designed and built a little later than the main house. Remi explains: 'For me, hosting the exhibition is a venture into the unknown, I wanted to see how it would feel to actually open up the house.'
But as she explains, there is added poignancy: 'My father is an unsung hero. He was the most experimental of the tropical modernist architects really, and this house is an example of that – combining indigenous aesthetics with the tropical modernist principles. Recently, I saw some photographs of an exhibition he had here, many years, ago, he died in 1989, so somehow I am fulfilling my Dad's legacy.'
Folawiyo designed the show space with the intention that 'people be able to walk through the works and to encounter them almost sculpturally.' Of her decision to frame art in a domestic setting she adds, 'I am very interested in taking art to different contexts and seeing how the context impacts the art work.'
Folawiyo also cites cultural relativism as guiding her choice of exhibition space and this is pertinent given the cultural notions of the family compound and the role it plays in informing identity both on a micro and macro level. A sense of belonging begins in the home, and it is a concept that will not be lost on visitors.
As Lagos continues to buzz in the midst of a creative season that will culminate in Art X Lagos in the first week of November, Folawiyo is already looking ahead to new dynamic interventions for her and her team at FF Projects to realise.
'I think one of the really important parts of a show is giving the audience autonomy and a sense of authorship in the work. Giving them a sense, they are a part of the work, giving them the freedom to roam and meander and they can choose how they fit into the work as well.' It is a statement that could just as easily be uttered by an artist, curator or an architect and in Image Impressions we have a show that dares to segue the three.
Image Impressions is on view at the Vaughan-Richards House until 5 November 2023
For information, contact hello@ff-projects.com
Receive our daily digest of inspiration, escapism and design stories from around the world direct to your inbox