Uncanny valley: artistic visions of our AI future
As algorithms and data-sets increasingly shape our lives, artists are exploring our collective concerns around artificial intelligence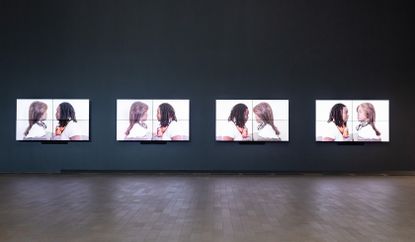 (Image credit: Fine Arts Museums of San Francisco)
Our current situation has ushered us into a new, technology-driven relationship with the art world. The virtual exhibitions and augmented reality experiences from museums and galleries across the globe have accelerated our path into a digitised future, albeit a temporary one.

But as our world relies further on technology and algorithms to shape every aspect of our lives, how will our relationship with machines evolve? Where will our humanity begin and end? And how might this data-driven reality risk reinforcing our worst fears about the future?

These are some of the questions posed by 'Uncanny Valley: Being Human in the Age of AI', the first major contemporary art exhibition exploring A.I. at the de Young museum in San Francisco and currently accessible via its Instagram page.
Bringing together 13 artists and activist collectives including Zach Blas, Ian Cheng, Stephanie Dinkins, Forensic Architecture, Lynn Hershman Leeson, Trevor Paglen and Martine Syms, the works leverage immersive technology to explore how machine learning, data sets, cloud infrastructure and search engines are transforming our existence as we know it.
'Uncanny Valley' was a term first coined fifty years ago by Masahiro Mori, a robotics professor at the Tokyo Institute of Technology in an essay where he examined the apprehensive reaction humans have to robots who look and act just like us. It has taken on a new meaning in today's world of digital alter egos, deep fakes and AR influencers, where the lines between man and machine have become increasingly blurred.

'Technology is changing our world, with artificial intelligence both a new frontier of possibility but also a development fraught with anxiety' says Thomas P. Campbell, Director and CEO of the Fine Arts Museums of San Francisco. The socio-economic and moral implications of A.I. technologies are explored throughout several of the works.
Based on an unrealised design by Amazon to contain human workers in its warehouses, Simon Denny's Amazon worker cage patent drawing as virtual King Island Brown Thornbill cage, US 9,280,157 B2: System and method for transporting personnel within an active workspace, (2016) stands at seven feet tall. With just enough space to turn around, the cage-like structure houses an augmented reality application that displays a bird that is almost extinct, the King Island brown thornbill. Featuring a joystick control and a metal claw to pick up orders, the piece questions the future of labour, and whether the human worker is not too long from finding themselves rendered obsolete.

Silicon Valley's crowdsourcing marketplaces and their invisible armies of human labour are critiqued in Agnieszka Kurant's A.A.I. (artificial artificial intelligence), an installation of multiple termite mounds of coloured sand, gold, glitter, and crystals that shines a light on the layers of human beings hidden behind these advancements.
Zach Blas has created an artificial garden inspired by those found on tech campuses to highlight how these companies appropriate ideas from counterculture to drive their commercial ambitions. The garden space is surrounded by video screens that play out perception-altering visuals – a kind of algorithmic psychedelia.

Elsewhere, the risks that artificial intelligence poses in reinforcing racial, gender and class divisions are explored in Lynn Hershman Leeson's Shadow Stalker (2019). Allowing viewers to see their digital footprints and urging them to take control of their data, it looks at the reliance on algorithmic systems in policing that categorise individuals based on inaccurate 'embodied metrics'.

Stephanie Dinkins' Bina48 is a robot that has no understanding of race, gender or class. Her conversations with it illuminate the darker side of A.I. programming – how can a machine be used to make decisions if it has no awareness or sensitivity to history or social equity?
A dystopian future is not the only prediction offered here though. In Martine Syms' Mythiccbeing, the possibilities for A.I. to be used to redress these same imbalances are suggested. Syms has created an Alexa-like avatar who listens and responds to instances of racial inequality and social injustice in everyday life, a 'woke' companion who challenges its human subjects to aim towards fairness.

No longer the stuff of science-fiction movies or a far-off moment in time, the 'Uncanny Valley' that Masahiro Mori foresaw in 1970, is now a place that we inhabit. Our friends are electric. Do they control us or do we control them? The fast-moving path to an A.I. future must be powered not only by data and neural networks but by humanity, ethics and heart.
INFORMATION
The de Young museum, San Francisco is temporarily closed to the public. For more information, visit deyoung.famsf.org; instagram/deyoungmuseum