Two London shows for US artist George Condo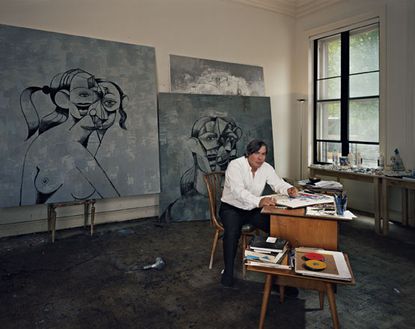 (Image credit: Matthu Placek)
Looking at painter George Condo's work - imaginary portraits of twisted figures; couples in the throws of feral sex; Elizabeth II with a carrot through her head - you might think he's a man well acquainted with pain. But the artist seems more a man of healthy appetites. He likes the casino, a good lunch and a good red wine, but above all he loves to paint. 'I get antsy when I'm taken away from my work.'
Some of Condo's abundant output is, at long last, have an outing in London. A collection of his recent drawings launched last week during Frieze Art Fair at the Mayfair gallery Sprüth Magers, whose co-founder Monika Sprüth has represented the artist since 1983. The show coincides with a major retrospective opening at London's Hayward Gallery on 18 October. Called 'Mental States', it's the first Condo retrospective to go on tour; earlier this year it premiered at the New Museum in New York.
The recognition is not before its time. It's not that Condo, 53, is underrated as such (his work currently sells for an average of $450,000 a piece), but as a contemporary painter of incredible talent and technique, he's never hit the starry heights. 'In Europe, people are more hip to my work,' says Condo, who's been represented by Monika Sprüth since 1983. 'But my work is a reflection of the culture in the US, and they don't like to see their culture in a denigrated and demolished form.'
In 1982, when Condo decided it was OK to be a painter (after all, Keith Haring, Julian Schnabel and Jean-Michel Basquiat were doing the rounds), he needed to find a position. So while others were finding their USP in graffiti and smashed plates, Condo took up with the Old Masters, forensically examining and learning their methods, from Rembrandt to Picasso, and then creating something entirely his own.
Condo, who collaborated on a book with William Burroughs and used to hang out with Allen Ginsberg, recently worked with Kanye West, creating the cover for his album 'My Beautiful Dark Twisted Fantasy'. After listening to the same song 3,000 times, Condo came up with 'eight or nine' paintings. West chose one of a black man straddled by a monstrous white female with wings and a long, spotty tail. 'People look at my paintings and think I'm insane,' muses Condo. 'But the audience catches up with your work in the end.' The end, it seems, has finally arrived.
Condo's drawings are at Sprüth Magers, London, from 12 October to 12 November. 'Mental States' is at the Hayward Gallery from 18 October to 8 January
Receive our daily digest of inspiration, escapism and design stories from around the world direct to your inbox