Print-making: Counter Editions teams up with big name artists on Team GB images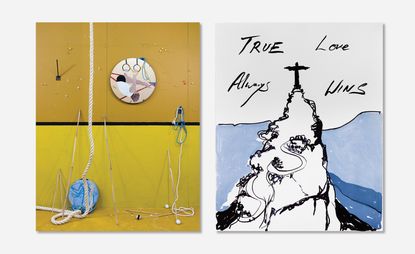 (Image credit: TBC)
Available from today are the Counter Editions Team GB prints, created for the Rio 2016 Olympic games.

The London fine art publishers created the official prints for the 2012 London Olympic and Paralympic games. This year, they continue their relationship, carrying the torch for the meeting of art and sport, working with eight artists. Tracey Emin, David Shrigley, Eddie Peake, Anne Hardy, Howard Hodgkin, Sarah Jones, Benjamin Senior and Sam Taylor-Johnson were all asked to produce works to celebrate Rio and support Team GB.

The prints produced offer up the chance to buy a token of Olympic celebration but are also a showcase of the artists' personal styles. Renowned for his absurd play with sex and sexuality, Eddie Peake contributes Sweat, a fluorescent screen-printed poem just vague enough to reference both sex and athleticism. Royal Academician Tracey Emin, who has a history of collaborations with the gallery, produces True Love Always Wins a lithograph that features Rio's Christ the Redeemer at the peak of a windy road, depicting the triumph at the end of a difficult course. She foregrounds true love with soft allusions to her recent 'rocky' marriage. David Shrigley's cartoon Life is Fantastic, feature his signature thumbs up, doubling the Olympic torch as a cone of ice cream – somewhat satirical yet cheerfully celebratory. No doubt capturing the general mood come Friday when The Games begin.
INFORMATION
For more information, visit the Counter Editions website