Thomas Barger's paper pulp sculptures echo his childhood memories of rural Illinois
Now based in Brooklyn, the artist refects on his personal experience of luxury growing up in the Midwest for a new series of furniture items being exhibited in Seoul by Salon 94 Design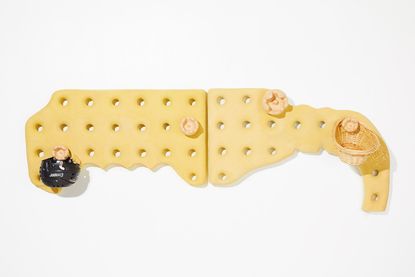 (Image credit: Courtesy of Salon 94 Design)
Few artists have a story like Thomas Barger. Raised on a cattle ranch farm in Illinois – about as rural as it gets in the Midwest – as a young gay man, he struggled to find his place in the conservative, religious community. He went to the University of Illinois at Urbana-Champaign to study architecture and landscape architecture, which lead the 20-something artist to eventually move to New York.

It was in New York that Barger was able to free himself in order to see himself, both as an artist and a man. His sculptural, object-oriented works have always been tactile explorations of his younger years, a way to process the emotional and spiritual journey, and look back at how the rural environment shaped his queerness.

'It's a little funny what I thought was glam,' Barger says, speaking of the inspiration for a series of new works that grapple with luxury and the domestic, part of an offsite exhibition staged by Salon 94 Design in collaboration with Supply Seoul. 'As a child and even as a young adult in the Midwest, my understanding of luxury differs so much more to what I see as luxury nowadays, as an adult in New York,' Barger, who now lives in Brooklyn, says. 'My rural childhood memories of what luxury was seems frivolous and cute.' But Barger's perspective on luxury and materialism isn't one of straight critique. He also locates the 'richness in these found objects were the memories and relationships'.
The show with Salon 94 Design (the artist's second solo outing at the gallery) is called 'Sugar Dish', which to Barger means 'confronting my relationship participating in a commercial market and reflecting on what luxury used to mean to me'. That is conveyed first in the materials Barger chooses, that create tension between 'campy drag high and low, transforming paper from NYC streets and rocks from my creek into something desirable. It is this funny feeling of feeling like a fraud in this luxury market'.

The paper pulp sculptures he's produced reference to specific items: Longaberger baskets, chairs, daybeds and sugar dishes, items he was once surrounded with and considered to be the pinnacle of high-end culture. Ornately and unashamedly decorative – Barger likes romantic details, art historical tropes like flowers, thorns, and snaked hearts – his objects are animated by their organic forms but a palette of pinks, reds, greens and black make them more like cartoon figures. Bendy, spiky and comical, Barger's cast of former furniture items are not without humour or erotic charge either (there's not many works that would look at home in torture garden and a kindergarten).

Look closely and some of Barger's childhood memories are hinted at in the artwork titles: Do You Wish I Was A Mackintosh asks one high-backed chair, painted black. Dicks Creek Hereford hints another. Each object is like a diary entry, Barger looking at the personal through the prism of design. Craft, memory and queerness are all themes Barger has touched on in the past but these new works see him 'diving deeper' – truth they say is, after all, sweet like sugar.
INFORMATION
'Sugar Dish', until 15 August, Salon 94 Design. salon94design.com
ADDRESS
Supply Seoul
B1, Seongsu il ro 9
Seongdong gu
Seoul
Receive our daily digest of inspiration, escapism and design stories from around the world direct to your inbox
Charlotte Jansen is a journalist and the author of two books on photography, Girl on Girl (2017) and Photography Now (2021). She is commissioning editor at Elephant magazine and has written on contemporary art and culture for The Guardian, the Financial Times, ELLE, the British Journal of Photography, Frieze and Artsy. Jansen is also presenter of Dior Talks podcast series, The Female Gaze.