'The New Modern Hair' exhibition, Los Angeles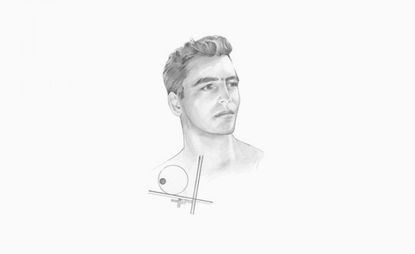 (Image credit: press)
Silvia Prada (opens in new tab) is cutting sharp shapes at the Pacific Design Center (opens in new tab) in West Hollywood with 'The New Modern Hair (opens in new tab)', her first solo exhibition in the United States. Presented by cultivators-of-cool cultureEDIT (opens in new tab), the show explores the nuances of the male psyche through the illustrator's fetishistic examination of their coifs.
Prada's interest in male locks was first piqued while she was leafing through vintage hair magazines in her father's barbershop in the sleepy Spanish town of Ponferrada. This fueled a fascination with identity and iconography in media, which has served as a catalyst for her art practice - her monochromatic illustrations shaping popular culture while simultaneously critiquing it.

Now based in New York, she has used her recently published tome, 'The New Modern Hair: A Styling Chart (opens in new tab)' as a springboard for the exhibition, combing through male hairdos of the 1950's, 60's and the early 70's as inspiration for a series of graphite drawings and murals. Prada took cues from 20th century art movements like Bauhaus, De Stijl and Russian Constructivism, working geometric shapes alongside portraits of meticulously groomed men.

Speaking about the cultural significance of this show, curator and cultureEDIT-founder Joakim Andréasson said: 'Male beauty has over the last 30 years been completely redefined, and has deepened its relevance and aesthetic purpose. The confidence that comes with choice has created countless of iconic moments in popular culture.' Andréasson previously served as managing director at HL-ART (opens in new tab)/Helmut Lang Studio (opens in new tab), mitigating the cult designer's transition from fashion to the art world and was similarly instrumental in facilitating Louise Bourgeois (opens in new tab)' retrospective of his work in our first ever guest editors issue (see W* 115).

Prada's illustrations are supplemented by contributions from friends and former collaborators, such as filmmaker Bruce LaBruce (opens in new tab), photographer Collier Schorr (opens in new tab) and Warhol cohort Marc Balet (opens in new tab), among others. Nary a hair out of place in this one-of-a-kind show.
ADDRESS
Pacific Design Center
Blue Building, 2nd Floor, #B255
8687 Melrose Avenue
West Hollywood CA 90069
VIEW GOOGLE MAPS (opens in new tab)