Tenant of Culture: the artist turning fast fashion into radical hybrid sculpture
Ahead of a major new installation at London's Camden Art Centre, we speak to Tenant of Culture, whose art-meets-fashion practice dissects the darker sides of our material world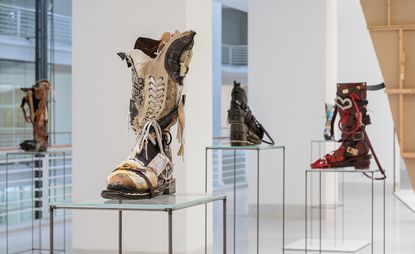 (Image credit: Courtesy the artist and National Gallery Prague)
Deconstructed, reconstructed, bleached, re-dyed, hung, wrung out, stacked; Tenant of Culture – the moniker of Dutch artist Hendrickje Schimmel – has a way of handling material.
Known for creating works from used (and sometimes nearly new) garments, Schimmel – who won the 2020 Camden Art Centre Emerging Artist Prize with Frieze – creates cross-bred art-meets-couture sculptures that are at once monstrous and sumptuous. The artist's work illustrates an industry of extremes and dissects the psychology of break-neck fast fashion and a material world of rapid obsolescence.
On 8 July, Tenant of Culture will unveil 'Soft Acid' at Camden Art Centre. The artist's largest installation to date, it draws directly on the history of the gallery, and stitches together complex stories of gendered domesticity and the hierarchies of supply and demand.
Wallpaper*: Your installation at London's Camden Art Centre began in the gallery archives. What did you uncover during research, and how did this inform the work?
Tenant of Culture: I spent some time in the Camden Art Centre archive, initially to look for documentation of workshops held there during the 1960s and 1970s. Instead, I happened upon a leaflet of an exhibition called 'The Londoners, A Visual Survey of London Working Life from 1866 to 1966', held in 1966. One of the professions it mentioned was the laundry industry, which I had never heard of. It stated: 'When the soap tax, enforced until 1852, was finally removed, there was a swing in fashion towards pale-coloured clothes, light muslins and chintz furniture covers. This was echoed by a sudden expansion in [the] laundry industry.' I decided to focus my research for this exhibition on the history of laundry and its importance in the mass production of textiles and garments, historically as well as [in] contemporary [times].
When the laundry industry first emerged, it employed almost solely women, even though the work was extremely tough. Laundry is often associated with domesticity and remains one of the more gendered tasks. It is not something I ever connected with heavy industry, which is probably why there is a distinct lack of research into the subject, in comparison to railways and steel mills for example.
I found a book on the subject by Dr Arwen Mohun called: Steam Laundries, Gender, Technology and Work in the United States and Britain 1880 to 1940. This book traces the social and material conditions that made the commercial laundries so omnipresent, such as urbanisation and changing hygiene standards. In a contemporary context, looking at methods that are used now to mass-produce garments, I mainly focused on processes such as acid and enzyme wash used for the artificial ageing of denim, and finishing processes such as waterproofing and sweat-proofing performance wear. Processes that use enormous amounts of water, which is often released back into the environment, lined with microfibres and traces of chemical dyes.
W*: What can we expect from 'Soft Acid'?
ToC: The title, 'Soft Acid', is a direct reference to the processes mentioned above. Acid is often used to soften a garment before it is distributed, making it more comfortable to wear. The works in the exhibition are all made from second-hand garments, textiles and accessories, that are re-dyed, deconstructed and re-assembled into wearable or non-wearable pieces. I've worked a lot with colourful garments this time, and with garments that have gone through some of the processes I mention in [response to] the first question. All of them are suspended from stainless steel construction that references the environment of the commercial laundry and dye factories as well as high-end shop displays.
W*: Your sculptures incorporate discarded garments and accessories. Where do you normally source these materials from?
ToC: I source my materials mainly from secondary market places, such as eBay, charity shops, yard sales, or sometimes wholesale vintage. The garments and accessories I use are not necessarily discarded, they are just expelled from the realm of newness. Rejected by their first, second or third owners. I find these the most interesting places to source garments from as they are in the process of becoming obsolete but often are still in great condition, hardly worn, often with tags still on them.
By looking extensively at what is no longer desirable, I learn a lot about psychological obsolescence as well as the material trajectories of garments. When they are discarded for good, they enter a different realm. In a way, my work is not about waste in the sense of garbage or debris but more about the extremities in volume and the speed at which fashion is produced, consumed and discarded.
W*: You confront themes of waste, and mass consumerism, particularly concerning fast fashion, and the invisible, exploitative economies that support it. As conversations around sustainability in fashion and beyond continue to escalate, what do you hope viewers will take away from your work?
ToC: It's great that there is currently a lot of interest in these subjects from the consumer side. It is crucial to have these conversations. It is also important to realise that regardless of this, the industry continues to grow exponentially and the number of garments created each year continues to rise. Therefore, I think it is important to specifically address the production side of things and the structures that enabled this industry to accelerate beyond comprehension. Shifting the blame to consumers is a strategy that benefits the producing entities. To rethink consumption we need to begin by understanding the hierarchical relationships between supply and demand.
INFORMATION
Tenant of Culture 8 July-18 September 2022, Camden Art Centre, London. camdenartcentre.org
Harriet Lloyd-Smith is the Arts Editor of Wallpaper*, responsible for the art pages across digital and print, including profiles, exhibition reviews, and contemporary art collaborations. She started at Wallpaper* in 2017 and has written for leading contemporary art publications, auction houses and arts charities, and lectured on review writing and art journalism. When she's not writing about art, she's making her own.