Taxonomy of a Landscape: photographer Victoria Sambunaris' visual journeys across the US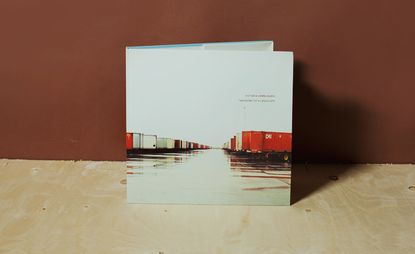 (Image credit: TBC)
The American landscape photographer Victoria Sambunaris has completed her first monograph, Taxonomy of a Landscape. Sambunaris studied at Yale and still teaches there, although her main passion is the regular road trips she takes into the American interior. The monograph brings together many of the images she took in South Texas - a rich natural landscape that is also shifting fast due to the demands of the energy industry - covering over a decade's worth of shooting.
Given she works with a traditional large scale view camera and chemical printing process, it's unsurprising that Sambunaris should feel a kinship with the work of photographers like Lewis Baltz, Robert Adam and even the Bechers, all of whom bring their experience of the landscape and the process of travelling, finding and gaining access to locations into their art. 'All of them have been out there driving - or flying, riding, galloping, hauling, whatever they need to do - to get that one photograph. And if you get it, it's complete ecstasy. These photographers among others I could mention have modelled a way of life as much as an artistic aesthetic.'
The book is designed by David Chickey, one of the co-founders of Radius Books. As well as the photographs, it also incorporates elements of the ephemera installation from Sambunaris's show at the Albright-Knox Art Gallery. 'The inspiration came from geology books that contain a pocket in the back to hold maps and drawings,' she explains, 'the back pocket of the book includes a booklet of the ephemera, a pull out grid of photographs and a little gem - a brilliant short story called The Mappist by Barry Lopez.'
We asked Sambunaris about her work, methods and inspiration.
Wallpaper*: What criteria do you look for in a landscape? Some of the places feel unnatural, even though they are totally unsullied, whereas some of the scoured and altered landscapes have a strange alien geography about them. Is this intentional?
Victoria Sambunaris: My process begins with an unmitigated curiosity inspired by a piece of literature, an article, an image or a conversation having to do with industry, culture, history, anthropology, geology and ecology. Once I depart from New York, I spend between three and seven months on the road pursuing an idea in the form of a landscape which reveals something to me about landscape and our existence within it. Each place is an anomaly with an abundance of information to be discovered.
Most of my time on the road is spent searching and scouting for something that is difficult to put into words but when I see it, I know it. The view camera is cumbersome so, before actually shooting film, all circumstances have to be perfect. I will wait days for the right light and very often I will return to the same place to reshoot it during a different time of year. The look of the work is deliberate and something I strive for when shooting and printing in the darkroom.
How much do you know about a place before you shoot there? Do you have an expectation of what you'll find or are you looking to be surprised?
There is definitely a great deal of planning, especially since I am gone for many months. I do research, however, there is spontaneity in the work once I am on the road. There are expectations about what I think I want but sometimes those expectations are not met and I find something else. Occasionally one thing leads to another, someone sends me in a new direction or I discover something I didn't know exists. But when finally I do find it and shoot it, it's a like a gift.
Many of these landscapes feel very transient and fragile. Do you feel your work is a historic record as much as it is about the art of composition and printing?
I am not setting out to make a historical record. However, the fact that the world is constantly changing means the work inevitably becomes a historical record. There are towns that I return to five years later and nothing is familiar - maybe a mine has reopened or an industry has left and the place transforms. This keeps me interested in coming back for more.
We get a strong sense of place from these images, but not so much an idea of your journey. We were especially interested in the juxtaposition of your photographs with found ephemera from your travels. How do you feel these support the photographs and their interpretation?
There are many segments to the work and I am often limited by space when exhibiting in a gallery. In 2011, I had a museum show of my work at the Albright-Knox Art Gallery in Buffalo, New York. The space was abundant and large enough to show 40 murals and to create an installation of my collected ephemera. The ephemera adds a layer to the work in revealing the experience of life on the road. On a side note, I take every opportunity to stop at geology and historical museums to learn about the places where I am working.
Which landscape photographers (and other artists, in any genre) do you admire? Do you feel your work is a continuation of a long-standing tradition?
The photographers who have inspired me the most are the ones whose work has been about the land and people - many of them making a life for themselves on the road. I call them 'road warriors', starting with the US Geological Survey photographers in the late 1800s and the Farm Security Administration photographers in the 1930s.
As for other artists, in the car I always carry an abundance of books and literature that reference the places I am working. There are geology books, road guides and every kind of map. Books such as 2666 by Roberto Bolano, Down by the River by Charles Bowden and The Devil's Highway by Luis Alberto Urrea when I am working the US/Mexico border.
As far as people outside of photography and literature, I am inspired by many. The slow paced films of Chantal Ackerman come to mind frequently when driving on solitary roads out west or shooting video from a train.
The people I meet along the way have also inspired my work. I've gotten to know miners, geologist, pipe layers, park rangers, sheriffs, campers, ecologists, conservationists, people on both sides of the border and from all realms. These have been my teachers and guides and informed my photographs.
Receive our daily digest of inspiration, escapism and design stories from around the world direct to your inbox
Jonathan Bell has written for Wallpaper* magazine since 1999, covering everything from architecture and transport design to books, tech and graphic design. He is now the magazine's Transport and Technology Editor. Jonathan has written and edited 15 books, including Concept Car Design, 21st Century House, and The New Modern House. He is also the host of Wallpaper's first podcast.