This Paris exhibition of hanging abstract sculpture has just the right element of suspense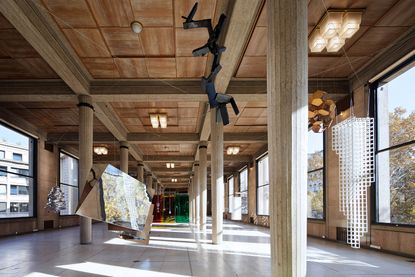 (Image credit: Benoît Fougeirol/CESE)
Look up. Inside the exceptional interiors of Palais d'Iéna, designed by Auguste Perret in the 1930s, a unique collection of abstract sculptures stands the test of time, elegantly hanging from the art deco ceiling. Handpicked by brilliant, young curator Matthieu Poirier and unveiled during FIAC, the exhibition presents a century of abstract sculpture up to present day through the perspective of aerial suspension.

First explored by artists in the 1910s, one comes across three fascinatingly enigmatic Hanging Spatial Constructions created by Alexander Rodchenko. On each side, conceptual works by Man Ray and Marcel Duchamp – respectively made out of hangers and colourful shreds of latex balloons – make for a strong opening statement. Not far, one of Calder's 'mobiles' cast a new light on the young discipline.

In 1931, Duchamp himself uses the word 'mobile' to describe Calder's first sculptures; he insists that the piece is 'animated' by invisible forces and reveals the movement of the air. The 1950s are all about movement and kinetic with unique works by Soto, François Morellet, Gego or Julio Le Parc that challenge the perception of the seen object.
The eye is constantly rediscovering the intricate lines and perspectives as if the sculpture had many forms. Little by little, the sculptural materiality of the sculptures eases up, becomes lighter. 'The contours of the forms, launched into orbit, indicate a desire to escape gravity or fight it,' Poirier explains pointing at Yves Klein's Blue Planet (Relief Planétaire bleu sans titre). Sol Lewitt's Inverted Spiralling Tower and Antony Gormley's Fall III seem to be cascading down from the ceiling with an unmatched weightlessness.

'Over time, what the sculptures loose in mass, they gain in transparency and balance, structure and sometimes even in physical mobility,' adds the curator. Contemporary works by Xavier Veilhan, Ernesto Neto, Tomás Saraceno or Olafur Eliasson play with materiality: the artists use nets, steel threads, carbon, weathered wood and magnets to imagine new, spatial works of art. Uplifting!
INFORMATION
'Suspension: A History of Abstract Hanging Sculpture 1918-2018' is on view until 28 October. A further selection of hanging abstract sculpture is on view at Olivier Malingue, London, until 15 December. For more information, visit the Olivier Malingue website (opens in new tab)
ADDRESS
Palais d'Iéna
9 Avenue d'Iéna
75016 Paris
View Google Maps (opens in new tab)