Eye spy: Stan Douglas goes undercover at London's Victoria Miro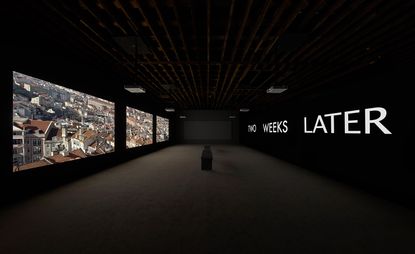 (Image credit: The artist, David Zwirner, New York / London and Victoria Miro, London)
The Canadian multi-media artist Stan Douglas deals in what he calls 'speculative histories'. These re-routed histories are not just playful counterfactuals but examinations of particular moments of hope and possibility; what concrete goodness might have come out that hope had it not crushed or derailed.

The Secret Agent, a new work showing at Victoria Miro's east London mothership, is a six-screen full length drama looking at the aftermath of the fall of the dictator Salazar in Portugal in the mid-1970s, and the short-lived 'carnation revolution' that followed.

Douglas moves the action of Joseph Conrad's novel The Secret Agent to this particular time and place; or as Douglas tells Wallpaper*, 'historical time suspended in some way'.

In the original novel, set in 19th century London, the ambassador of a foreign power, almost certainly Russia, enlists an anarchist on its pay roll to blow up the Greenwich Observatory, an assault on time and Britain's sense of imperial order. In Douglas' version, the ambassador is American and the target is a Marconi trans-Atlantic telephone exchange.

'Portugal had been through 30 years of fascism,' explains Douglas, 'and was suddenly in this state of openness and flux. They were trying to figure out what sort of government they wanted.

'Eventually it became a conventional Western democracy but it had the potential to become almost anything at the time. This terrified America who put warships off the coast of Portugal. Nato started doing war games nearby. They were scared that a communist government might take control.'

Douglas is also interested in looking at terrorism, reading Conrad forward into Portugal circa 1975 and then on into our own age of terror. 'The novel is really the first literary presentation of terrorism and many of the things in it are still prevalent today,' he says. 'And in Portugal after the revolution, there were extreme left wing groups and right wing groups doing all sorts of bombings. In this context a terrorist means very different things to different people, on the giving and receiving end. People have very different ideas of what is meant by this simple act of violence.'

Douglas moves his characters from screen to screen, around sets – a cinema-come-book store, a bar, a wonderful modernist government building and occasionally outdoors. Douglas is brilliant at patina and historical detail, cigarette smoke and cigarette-yellowed teeth and hair. Mostly the characters talk at each other, rather stagily, playing their parts in what will inevitably become a tragedy of conflicting ideas about ends and means.

At least two or more screens play at any one time. 'Two things are always going on simultaneously,' says Douglas. 'But one pair of screens is governance, another pair is private space and another is the street. The street is the interface between governance and private space. Some characters are stuck in the middle, others at either end, some cross them all. And you decide who you pay attention to; the person talking, or the person listening. It's a symbolic space. You are in the middle of the action and you have to decide how to piece it together.'

Downstairs at Miro meanwhile are a series of remarkable digital renderings of the Vancouver – Douglas' home city – of 1948. This is a place and time Douglas has summoned up and revisited before.

These images are hi-res'd re-worked versions of images used in Douglas' 'Circa 1948' smartphone app, which allowed users to wander the streets of Vancouver and pull up remarkable 3-D renders of his or her exact location exactly as it was in 1948. Douglas then used them in his neo-noir cinematic stage-play Helen Lawrence.

These are impossible 'photographs' of a disappeared physical landscape at night (no reproduction can do justice to the windows onto illuminated rooms or moon shadows). 'It's taking a photograph you can't really take,' says Douglas. 'The places aren't there anymore and there's no light.'

'They are a study of shelter,' he continues. Mostly of working class neighbourhoods, a hotel squatted by soldiers returned from the Second World War, shoreline shacks and boathouses. 'There was this law that no-one owned the land that appeared between low and high tide,' says Douglas. The English author Malcolm Lowry spent six years in one of these shacks. Well actually two different shacks. He managed to burn one down. 'He was drinking a lot,' says Douglas. Between drinking and setting things in fire, Lowry did manage to complete his classic Under the Volcano here.

This is Douglas' fourth work that revisit's the Vancouver of 1948, and to stunning effect. It may be his last visit. 'I think I'm done,' he says.
INFORMATION
'The Secret Agent' is on view until 24 March. For more information, visit Victoria Miro's website
ADDRESS
Victoria Miro
16 Wharf Road
London, N1 7RW