Sculptor Sarah Sze makes a sharp turn to glass at Berengo Studio in Murano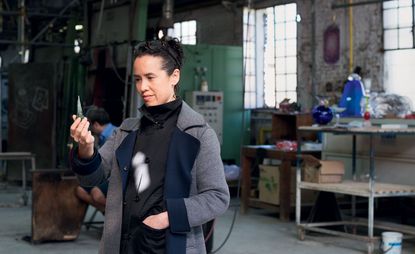 (Image credit: Albrecht Fuchs)
Adriano Berengo is having problems with Paul McCarthy's butt-plugs. There are three of them, 12in or so tall and made entirely in blown glass, sitting on a shelf in Berengo's modest Murano office. The room is strewn with other odd and beguiling glass objects made for artists of the highest rank. McCarthy's, though, are the easiest to identify.

McCarthy wants his glass butt-plugs to double as whisky bottles but the whisky isn't pouring, it's dribbling down the sides. Berengo has explained that to work, the plug bottle would need some kind of rim, as it were, but McCarthy will not allow a violation of the plug's pure form. Berengo, now almost 70, with shaggy grey hair and boundless charm and energy, shrugs his shoulders. He is used to dealing with the artistic bent and if that's what McCarthy wants, that's what he gets.

McCarthy is one of 27 artists appearing in the fifth edition of Glasstress, an exhibition of artists' work in glass to run during the Venice Biennale, produced by Berengo's glass-making studio and key to his long-term mission to save Murano glassmaking from extinction.

As we speak, another artist appearing in the show, the star American sculptor Sarah Sze, is scoping out the Palazzo Franchetti, a neo-Gothic pile on the Grand Canal, where most of the Glasstress works will be shown. (A major installation by the French artist Loris Gréaud, a ceiling of 1,000 or so individually blown glass clouds, is being shown in a former foundry behind Berengo's office. Next year, Berengo hopes to convert it into a permanent museum and exhibition space.)

Sze has made her name with complex, large-scale installations using mundane found objects that often seem in a state of disintegration or coalescence, driven by forces largely unknown. Her works tackle time, memory, loss, the taxonomic urge and the distance between science and experience. 'A piece is finished when it is right at the edge of becoming and not becoming,' Sze says. 'I want it to make sense and then not make sense and then make sense again. That toggling is the heightening of experience.' Sze's installations are also, a rare thing in conceptual art, instantly affecting and deeply moving. And the installation is everything, suggesting pathways to discovery. Elements often spill outside the 'white cube' and into other spaces. 'It is always more interesting to have a conversation with the location. You can take over the space or bring attention to the details, the circulation, the behaviour, the history.'
Berengo has been courting Sze for years – Sze taught Berengo's wife, the Lebanese artist Marya Kazoun, at the School of Visual Arts in New York – and is a real catch. But she is just one of a constant stream of artists that Berengo's operation is welcoming and working with in the run-up to the exhibition. This year's Glasstress features artists from across Europe, the US, the Middle East and China, including Ai Weiwei, who spent Christmas with Berengo in Venice and now has the Murano craftsmen working on a 3m-tall chandelier loaded with glass Twitter birds, handcuffs, cameras and hands flipping the bird; Paul McCarthy, though not his whisky butt-plugs; Ugo Rondinone; Alicja Kwade; Jan Fabre; Jaume Plensa; Thomas Schütte; Laure Prouvost, who is working on a fountain made out of glass 'boobs'; Erwin Wurm, creating glass water bottles with legs, among others things; and Vik Muniz.

It's a serious commitment and a drain on resources. 'Every Glasstress nearly bankrupts me,' Berengo says. (The studio makes most of its money making smalleredition pieces for artists. It also has an exclusive deal with the Memphis studio). But Berengo is determined that Murano, or at least his part of it, can only survive if perceptions of what glass can do are shifted.

Though Venetian by birth, Berengo is an odd champion for Murano and its glass workers. After university in Venice he took an MA in comparative literature at the State University of New York. He settled into a career as an academic in America until divorce derailed his route to tenure and he was forced to return to Italy. Facing a lack of local demand for experts in 'Marcuse, Lacan, structuralism and psychoanalysis', Berengo took a job as a salesman for a Murano glass-maker and found a new calling. Six years later, in 1989, he set up the Berengo Studio. Then, he says, came a moment of crisis. 'I said to myself, "What are you doing with your life?" But then I thought about the way that Peggy Guggenheim had pushed artists towards glass in the 1950s and 1960s, Max Ernst, Jean Cocteau, Le Corbusier. And then all of a sudden the role was there.'

Berengo did the usual Murano things, making sets of glasses, chandeliers. But he also started to work with artists. He had some experience on that front. He had already worked with Jeff Koons on reproductions of Koons' couplings with the Italian porn star and his then wife, La Cicciolina. 'We made Cicciolina naked,' says Berengo proudly. 'She came here. The first thing she did was give everyone a porno tape.'

The first edition of Glasstress in 2009 was something of a happy accident, admits Berengo. He took over space at the Palazzo Franchetti after the Indian Pavilion was cancelled in the wake of the Mumbai terrorist attacks. In just six months, Berengo assembled glass works by 50 artists, including Louise Bourgeois, Tony Cragg, Josef Albers, Daniel Buren, Robert Rauschenberg and Richard Hamilton. Half of the pieces were loans, but half had been fabricated by Berengo's studio, and some of those specifically for the show. 'The market was astonished to see how much glass had crept into the artists' studio,' he says.

The show was such a success that Berengo decided to do it again at the next edition of the art Biennale. This time, though, he would recruit first-rank living artists and produce new works. He admits it was not always an easy sell. 'When you first ask artists, they are excited because they like to play with materials. But then they get scared that glass – of which they know almost nothing – could damage their identity.' Berengo's success has been getting artists past that sniffiness about glass as a medium and making clear its potential. When artists do sign up – all costs are borne by Berengo and there are no prescriptions about what should be produced or what techniques are used, as long as the piece is in glass – they have to get to grips with what is possible in the material and what is not.

'Some artists try to translate what they did in another medium into glass and the results are not so good,' says Berengo. 'You have to take glass for its own properties. The best results are when you start in A and end up in Z and in a completely different situation.' He describes his role as 'mediator of conflicts'.

Given the effort Berengo and his team make to answer every creative urge, it is hard to imagine much in the way of conflict. 'It is very much about their craft in the service of the idea,' says Sze. 'It is easy to be seduced by materials and processes, but the job of the artist is to challenge. And they are totally open to that. They are not precious about their processes.' They will also move quickly when an artist changes course.
Sze had started out on a Plan A for her Glasstress project, sending Berengo a range of small found objects and remains to copy in glass. 'I sent them a whole bunch of objects so we could start with a palette. And then I came here to play with that palette. But like always, I change things.' A young American glass artist, Carina Cheung, had spent weeks working glass in a flame to get what Sze was after. 'When I saw the stuff that Sarah sent, I thought I was confronted by a compulsive neurotic. And then I found another one for her to work with,' laughs Berengo. 'Without Carina I couldn't do this.' (Berengo is a smart recruiter and developer of young talent. He is currently building a studio for Alan Horsley, a 29-year-old Scot and an expert in the lost wax method. 'With a guy like him, we could conquer the world,' Berengo enthuses.)

While checking how work was progressing, Sze spotted a shattered blob of lagoon blue-green glass behind Berengo's crucibles (which he pays €25,000 a month to keep permanently fired up). The glass was due to be recycled, but Sze decided to use the shards to create her own take on the improvised pigeon defence systems, random bits of broken glass roughly set in concrete, found all over the world. Sze would line the perimeter of the Palazzo Franchetti, balustrades and balconies, with her own defences.

'I didn't want the project to be about the spectacle of glass,' says Sze. 'I want it to be about the materiality. And I wanted to put things outside to play with the idea of fragility. And then I thought about the problems with doing that and I thought about pigeons!' Sze says her glass shards 'play on the tension between beauty and threat that is inherent in the material'.

She is wary of the work, named Cotissi, becoming a one-dimensional celebration of craft. Not that there is anything wrong with that. It's just not her ambition. 'It is not about the performance of skill or the athletics of skill,' Sze says. But it is about an engagement with a maker and a history. 'You choose people who are going to be good for the work and hopefully it becomes something way beyond you. The real reason to do this is to push ideas in both realms. And the idea that this is a live material is central. It is live because it is handmade. When you look at it, you imagine a person, you imagine a culture.'
As originally featured in the June 2017 issue of Wallpaper* (W*219)
INFORMATION
Glasstress is on view until 26 November. For more information, visit the Glasstress website (opens in new tab) and the Berengo Studio website (opens in new tab)
ADDRESS
Glasstress
Palazzo Franchetti
San Marco 2847
Venice
VIEW GOOGLE MAPS (opens in new tab)