Dutch duo Scheltens & Abbenes embrace the ordinary to create the extraordinary
Maurice Scheltens and Liesbeth Abbenes celebrate 18 years of collaboration with a career-spanning survey of commercial and personal work at Foam photography museum in Amsterdam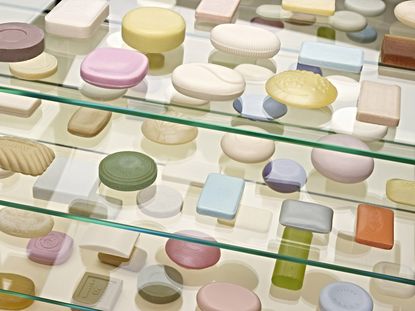 (Image credit: TBC)
Amsterdam is gearing up for the most significant museum exhibition of Dutch photography duo Scheltens & Abbenes to date, set to open at Foam on 15 March. Their preparation for the show echoes the fastidious still lifes they are renowned for: a sharp attention to detail fused with an ability to abstract and elevate the ordinary into the wondrous.

Spanning their 18 years of collaboration, the exhibition guides viewers through new contextualisations of magazine pages, blown up into large prints and diptychs. 'If the object has the ability to be something abstract besides its figuration and function, there is a good chance we go for it,' explain Maurice Scheltens and Liesbeth Abbenes. 'All objects can become worth looking [at]. It's a matter of observing, turning and investigating closely together with light and shadow, which becomes also part of the object and composition.'

The exhibition's title, too, is key to understanding the duo's practice. 'ZEEN' – a synonym for the Dutch word for 'tendon' in anatomy – sees the artists' sensitivity to micro elements lay the cornerstones for whole visual structures. It is the pair's intention that the viewer is immersed in a detailed perspective, sharing their fascination up close. 'In our more abstract pictures we will always leave a little hint of how things are done or something to recognise,' add the duo, 'just enough to make to viewer part of the play and wonder about how familiar objects can also look.'

Their compositions are aesthetically rigorous yet deeply stirring. Concept is always first and foremost as the artists' lively imaginations turn something as simple as an iron on a shirt into a graphic landscape, soap bars into seemingly infinite pill-like treasures, or tableware into a celestial skyscape.

A site-specific video installation created specially for Foam is inspired by an impulse about how a still life would look in motion, revealing Scheltens & Abbenes' enthralment with form, pattern and line. This expansion of their practice is a collaboration between the still and the moving, the duo musing that 'one cannot exist without the other.' It is this inquisitiveness that is central to the artists' practice: a limitless yen for experimentation has allowed them to build a genre-defying oeuvre.
INFORMATION
'ZEEN' is on view from 15 March – 5 June. For more information, visit the Foam website (opens in new tab)
ADDRESS
Foam
Keizersgracht 609
1017 DS Amsterdam
VIEW GOOGLE MAPS (opens in new tab)
Sophie is currently Photography Editor at Wallpaper*. Sophie joined the team following the completion of her photography degree in 2018, and works with Photography Director Holly Hay, where she shoots, commissions, produces, and writes on photography. Alongside this, she continues her art practice as a photographer, for which she was recently nominated for the Foam Paul Huf Award. And in recognition of her work to date, Sophie was nominated by the British Journal of Photography for the Futures photography platform in 2021.