A dystopian vision of Dartmoor unfolds in Robert Darch's haunting photographs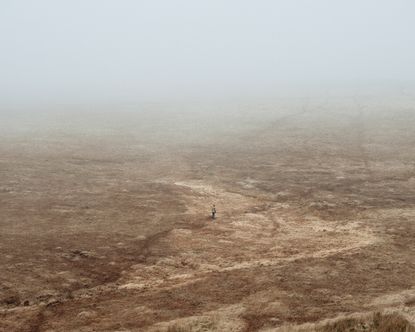 (Image credit: Robert Darch)
'My first conscious memory was the sound of hunting dogs baying on the fringes of Dartmoor,' says photographer Robert Darch, who recently launched his new book at the Martin Parr Foundation. 'Although our 1960s semi backed onto fields, the rurality of Devon and the baying hounds must have appeared otherworldly to me as a three-year-old.'

That mystical feeling has stayed with Darch, and it permeates the pages of The Moor, a sci-fi visual narrative that shows the landscape as a dystopia in the near future. Dark, tense and perilous, Dartmoor is turned into a dramatic stage setting, primal and symbolic. As an adult, Darch found himself living in the area, moving closer and closer to the moor, drawn there as if by some uncanny force.

It's the ambivalence of the bleak and barren landscape that Darch clearly finds so fascinating and that has continued to capture his imagination. 'The moors can appear serene and beautiful on a summer's day, but during the winter, covered in snow, fog, battered by high winds and stinging rain you can lose yourself in the landscape,' he explains.
Darch continues: 'Initially I was considering making a documentary project about the people that inhabit and work on the moor. However, I soon realised that I was far more interested in making a work about how Dartmoor makes me feel, lost, alone, isolated, excited and scared.'

The people who become the characters in Darch's narrative all share a relationship with Dartmoor; although constructed. 'On the days I was out with people I also allowed for situations to naturally present themselves,' the photographer notes, including a series of images of a male figure falling asleep next to an uprooted tree. 'My subject hadn't slept the previous night, he was partying and during the whole shoot he was literally falling asleep standing up. This was a genuine response to a set of real world circumstances which helped formulate the idea of people surviving in a dystopian future.'

Darch is already working on his next project in connection Dartmoor, but this time it's something more traditional: a documentary project on teens training for the Ten Tors, an annual event organised by the British Army.
The Moor, £16, published by Another Place Press
Charlotte Jansen is a journalist and the author of two books on photography, Girl on Girl (2017) and Photography Now (2021). She is commissioning editor at Elephant magazine and has written on contemporary art and culture for The Guardian, the Financial Times, ELLE, the British Journal of Photography, Frieze and Artsy. Jansen is also presenter of Dior Talks podcast series, The Female Gaze.