Distinct faces: Rashid Johnson explores escapism and identity in 'Fly Away', at Hauser & Wirth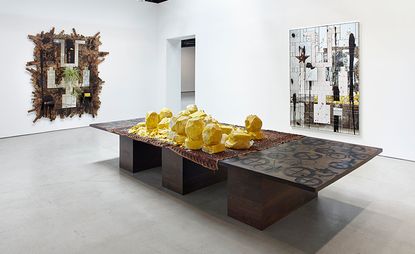 (Image credit: Martin Parsekain)
Kanye West reinterpreted it, Alison Krauss and Gillian Welch performed their rendition for O Brother, Where Art Thou?, and Aretha Franklin paid tribute to Princess Diana with it. Now, Chicago artist Rashid Johnson is using the title of the 1929 gospel hymn I'll Fly Away for his current solo exhibition 'Fly Away', on view at Hauser & Wirth New York until 22 October.

'Fly Away' explores history, escapism and Johnson's personal identity, taking up four rooms of Hauser & Wirth's massive West 18th Street space. It begins with a gallery dedicated to his Untitled Anxious Audience series, which comprises groups of crude, square-shaped faces painted onto a tile surface with black soap and wax. Johnson says he considers them to be distinct faces. 'I can very much attempt to produce the complexity of multiple characters, and that's what my goal is with this work,' he explains. 'I want them to share characteristics, but I don't consider them to be the same person.'

Johnson's Escape collages take up the next room. Made of ceramic tile, black soap, wax, vinyl and enamel, the works feature imagery of palm trees, blacked out by the African soap. 'If I was an artist from Florida, or from Haiti, or somewhere where indigenously they would have these tropical environments, I think this work would be very different. I happen to be from Chicago, so the idea of getting near a palm tree scenario was like a success story.'

The focal point of the exhibition is, without doubt, the enormous installation of Antoine's Organ. In it, a grid of black steel shelving holds plants, shea butter – a material often used in Johnson's work – growing lights and books, four monitors playing video art and a giant piano, where pianist Antoine Baldwin will play at selected times.

The exhibition takes viewers into Johnson's complexly layered history, utilising elements that touch on his own identity. Next year, 'Fly Away' will travel to the Kemper Museum of Contemporary Art in Kansas City, Missouri.
INFORMATION
'Fly Away' is on view until 22 October. For more information, visit the Hauser & Wirth website
Photography: Martin Parsekain. Copyright the artist, courtesy Hauser & Wirth
ADDRESS
Hauser & Wirth
511 West 18th Street
New York, NY 10011