Miami moves: artist Carsten Höller on his pop-up club for Prada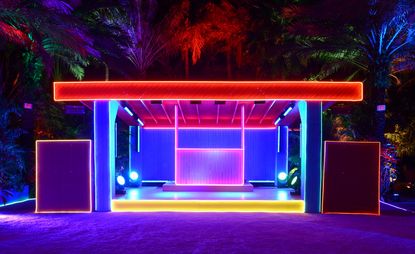 (Image credit: Carsten Höller)
Wallpaper* Newsletter
Receive our daily digest of inspiration, escapism and design stories from around the world direct to your inbox
Thank you for signing up to Wallpaper. You will receive a verification email shortly.
There was a problem. Please refresh the page and try again.
'Have you seen the film Rumble Fish?,' asks Carsten Höller. It's the morning before the opening of the Stockholm-based artist's new show in Miami: a three day pop-up club in collaboration with Prada that marks the opening of the Milanese brand's new store in the city's Design District, and which also happily coincides with Art Basel Miami Beach. 'In that film, there are these little fishes. They are in colour, everything else in black and white. I saw it 20 years ago and thought that's a great idea.'

Stationed at a former ice factory in Miami's Wynwood district, the Double Club is an immersive artwork that doubles as a nightclub - a party divided into two parts. Upon entering, guests are given two choices: go inside or outside. The outside space features a Caribbean-style beach bar and stage space, framed by neon lights that wash the space in every colour of the rainbow. Here, on the opening night, revellers danced to live performances from Wyclef Jean, and Cuban bands.

The inside space has been painstakingly desaturated – 'apart from the stupid exit signs' laments Höller. Monochromatic patterns cover the walls and guests dance to techno music on multi-tiered dance floor among strobe lights, lasers and generous amounts of atmospheric dry ice.

'It really works,' attests Höller, 'If you have been a little bit in the outside space and then go into the inside space it's like cutting your brain in two in some ways. You feel like a Rumble Fish.'
The installation, which was just two months in the making, borrows its name from Höller's previous show in London in 2008, also in collaboration in with Prada. Staged over the course of eight months, the original Double Club was a bar, restaurant and nightclub that explored the dialogue between Congolese and Western contemporary music, lifestyle, arts and design – an idea that Höller pitched to Miuccia Prada off the cuff, not expecting her to agree. It opened after a year of design and planning, but to Höller's dismay was deathly quiet after its launch.

'It was at the point when the financial crisis had just hit and the weather was lousy, and so nobody came. We thought that Prada and maybe my name might be enough to bring people, but no. It was empty for six weeks roughly, and then suddenly on 2 January 2009 – it was just full. And from then on it was really the place to be. It was crazy. But that's London for you; once it's on the radar, people will embrace it.'

The three-day Miami edition of the Double Club however, did not suffer from this problem. Queues stretched around the block on its opening night this week. 'This is a bit confusing in the sense that we are using the same name again but it's totally different,' explains Höller of the three-day event. 'Each work influences the next but it's kind of unconscious. Sometimes you have to push yourself and get away from what you've done before.'

'I think many artists fell into this trap – you're doing all these experimental things and trying things out, and then all of a sudden some of these things get public attention, so you latch onto it and continue at it for the rest of your life,' he continues. 'I don't want to do this. That's why we intentionally used this name again when it's not necessarily the same thing, it means I can make more Double Clubs in the future.'
Earlier this year, Höller's exhibition at the the new Renzo Piano-designed Centro Botín arts centre in Santander, Spain, also explored the theme of duality, offering its guests two pathways through a Y-shaped space. Höller, a former scientist, views these works as human experiments, likening the visitor experience at the Double Club to isomers – molecules that are made up of the same formula but with different chemical structures. As guests choose their path through the same space they each have different experiences.

'Many of my works are Double Clubs of sorts if you think about it – two different halves that awkwardly don't fit together,' he ponders. 'I like this idea of tracing a path; two different possibilities, you can go right or left, it divides in two, and then again, and again to infinity. It's a simple mathematical concept.'

Yet its not the results of the experiment that interest Höller. He won't be sitting in the space taking notes or counting numbers. Instead he wants to offer his art as a social, joyful experience; in this case a piece that can be enjoyed by everyone, from nightclubbers to art aficionados.
INFORMATION
For more information, visit the Fondazione Prada website
Receive our daily digest of inspiration, escapism and design stories from around the world direct to your inbox