Ground force: Simon Phipps puts British post-war public art in the frame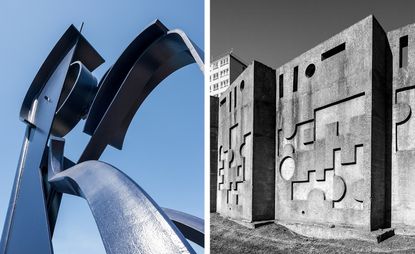 (Image credit: Simon Phipps)
Tracey Emin once said that art is for everyone. The sentiment still resonates with British fashion designer Margaret Howell, who feels passionately about public sculpture. 'It's a gift to us all,' she says. 'It's a pleasure to see art become part of a location, it really can enrich people's lives.'

Last year, Howell took a trip to London's Courtauld Gallery to see an exhibition called 'Out There: Our Post-War Public Art'. The show charted the conception and conservation of public artworks created in England between 1945 and 1985, and featured sculptures by the likes of Barbara Hepworth, Henry Moore and Elisabeth Frink. 'It was just so impressive,' she recalls. 'That was a brilliant era, when modern pieces were more commonly commissioned for communal spaces.'

'Out There' inspired the concept behind Howell's new exhibition, 'British Post-War Public Art', which is now on display at her brand's Wigmore Street store. 'I had seen some fantastic photographs that Simon Phipps had taken of British sculptures,' she explains. 'So, we asked him to document even more, especially for us.' Above Ercol furnishings and small ceramic displays hang 18 of Phipps' bold, texture-rich photographs of some of Britain's most renowned public works, which remain unspoiled and in their original settings. 'It's a celebration of these wonderful sculptures as they are now,' she affirms.
In one image, Phipps has lensed Richard Serra's Fulcrum (1987) from the ground upwards, in order to emphasise the scale of the imposing, wigwam-like structure that's nestled between skyscrapers in London's Broadgate. 'That's one of my favourite shots, Serra's sculpture looks so powerful,' notes Howell. Another photograph depicts Lynn Chadwick's The Watchers (1969–70) in the leafy grounds of Roehampton University. The set of three bronzes was famously stolen in 2006, before being found and re-installed in its original location last year. 'It's such a shame when public sculptures are vandalised, it changes the landscape completely,' she says. 'I believe that all sculptures, no matter how surprising, can grow on you and become familiar.'

Howell also regards Phipps' portrayal of Barbara Hepworth's abstract Four-Square (Walk Through) (1966) at Churchill College, Cambridge as a focal point. The striking photograph, together with 11 other images from the show, also form the label's 2018 calendar of the same name. 'A calendar is great because it allows people to incorporate these works into their daily lives in a more causal way,' she says. 'Because art really is for everybody.'
INFORMATION
'British Post-War Public Art' is on view until 22 October. For more information, visit the Magaret Howell website
ADDRESS
34 Wigmore Street
London
WIU 2RS
Receive our daily digest of inspiration, escapism and design stories from around the world direct to your inbox