Photographer Micol Sabbadini gets intimate access to Italy's most palatial palazzos for her new show at Villa Necchi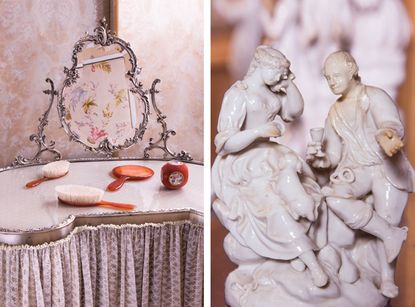 (Image credit: Micol Sabbadini)
Contemporary artist Micol Sabbadini (opens in new tab) has taken a close-up view of some of Italy's most treasured palazzos. In an exhibition that debuted last night in Milan's stately Villa Necchi Campiglio House Museum (opens in new tab), Sabbadini has presented 29 photographic works shot at properties restored and conserved by the Fondazione Ambiente Italiana (opens in new tab) (FAI), Italy's nonprofit answer to the National Trust.
Entitled 'Scatti d'Artista', Sabbadini's FAI series is more artistic than touristic in flavour and offers hidden details or unusual corners in properties dating from the 12th to the early 20th century. Of the 41 properties that FAI owns and manages throughout Italy, Sabbadini selected nine and spent a year photographing them.
'I picked the ones that still had the owners' objects in them,' says the 31-year-old Milan-based artist. 'I didn't want the images turning out like postcards. I wanted a sense of realism.'
Though she shot fresco-covered baroque palazzos (such as the 18th-century Villa della Porta Bozzolo (opens in new tab)), the medieval Castello di Masino and the contemporary art-laden Villa Panza (opens in new tab) (filled with contemporary art and lights by Dan Flavin (opens in new tab)), her favourite home was the more modestly sized Villa Fogazzaro Roi (opens in new tab), near Lake Lugano. 'That house is magic,' she says. 'You walk in and you feel like you're in a fairy tale. Plus, I'd never seen it before.'
Instead of sweeping pull-back shots, Sabbadini closed in on the 18th-century home's rich wallpapers. While that property is largely unknown, the tactic also worked for FAI's more famous sites – such as Genova's Antica Barberia Giacalone (opens in new tab) and Villa Necchi, which has had ample exposure, thanks to the Tilda Swinton film I Am Love and Tod's seasonal fashion presentations. In Genova, Sabbadini shot a detail of the 1920s stained-glass walls, while at Necchi she zeroed in on the precious objects found on the bathroom vanity and living-room shelf.
Each photograph is an edition of seven. Three will remain in the hands of the FAI, to be sold to raise funds; the remaining four will be available for sale through Glauco Cavaciuti Arte (opens in new tab), Sabbadini's gallerist in Milan.
ADDRESS
Villa Necchi Campiglio (opens in new tab)
via Mozart 14
Milano, Italia
VIEW GOOGLE MAPS (opens in new tab)