The last completed sculpture by Per Kirkeby takes shape in Provence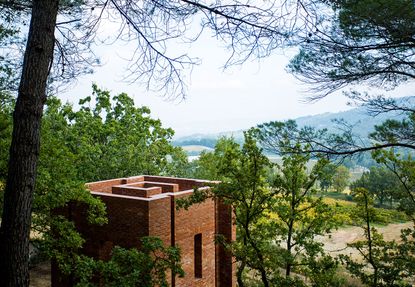 (Image credit: Vincent Agnes)
Per Kirkeby's Brick Labyrinth has cropped up at Château la Coste, joining its extensive collection of works by Tadao Ando, Jean Nouvel, Richard Serra, Tracey Emin and Louise Bourgeois. Hidden in the depths of the splendid property situated a stone's throw from Aix-en-Provence, among oaks and vineyards (the Domaine is as well known for its wine as it is for its art), this is the Danish-born artist's very last completed sculpture: he died in May this year, shortly before his installation was complete.

Kirkeby first visited Château La Coste in 2006, as part of a trip to Paul Cézanne's homeland in the south of France, and immediately started laying the foundations for a project at the property, which would include a temporary exhibition as well as this permanent sculpture. With Brick Labyrinth, he took inspiration from European romanticism, turning the labyrinth into a tower with two basic interior spaces.

References to Donald Judd's minimalism and to Mayan art and architecture are nonetheless evident – Kirkeby conceived his first brick sculpture in 1973 after traveling to Central America – as is a little homage to Provence through his choice of slender, bright red, archetypically Mediterranean bricks.
Original sketches and notes for Brick Labyrinth are visible to visitors of the Domaine at the entrance of 'Matter is Light', the temporary exhibition curated by the Château La Coste team and Kirkeby's longtime gallerist, Michael Werner. In a pristine space occupying an old winery, next to Ando's Centre d'Art, a selection of rarely-shown paintings dating between 2008 and 2014 is accompanied by sculptures from the 1980s. Not geometrical brick ones this time, but rather organically-shaped bronze pieces which, at some angles, appear to reveal human or animal profiles.

Kirkeby's obsession with geology (dating back to his early years as a young geology graduate working between the Danish mainland and Greenland) is visible in almost every piece, from the sculptures mimicking the stratified volcanic rocks of the north to the large-scale paintings, featuring his trademark bright pops of colour in the midst of rich, woodland-inspired shades.

'People think I'm a colourist, but I have tried to refute the idea that colours are pretty for years. Actually, it's quite the opposite: they mean something, they have a property. One which is often difficult to make out,' said the artist in a 2014 interview discussing gravity and grace, before adding: 'beauty is not enough. There must be something more, a structure. You must commit yourself, and risk everything, sacrifice the good, and go through a process of recognition until something better is created, built upon the ruins of the original idea.'
INFORMATION
'Per Kirkeby: Matter is Light' is on view until 21 January 2019. For more information, visit the Château La Coste website and the Michael Werner Gallery website
ADDRESS
Château La Coste
2750 Route De La Cride
13610 Le Puy-Sainte-Réparade