Chateaû La Coste inaugurates new gallery, a 17th-century house conversion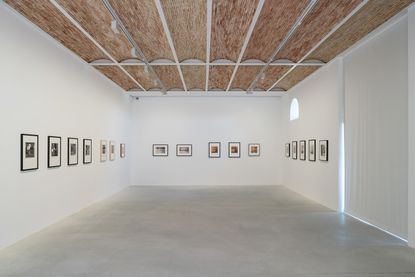 (Image credit: Courtesy of Gagosian and Fondazione Nicola Del Roscio)
The sound of a helicopter cuts through the pine-scented tranquility of the art and architecture-infused estate of Chateaû La Coste. Here in the hills of Provence among the vineyards, it is possible to find artworks by luminaries such as Tracey Emin and Andrew Goldsworthy, among others. A fabulous Sean Scully sculpture nestles at the base of the hill, where the artist's distinctive squares work brilliantly in three dimensions, while elsewhere a pack of bronze foxes by Michael Stipe skulk silenty through the surrounding forest.

The architecture is equally impressive in the newly opened gallery space, La Bastide, the original house on the property dating from 1682. Here, Cy Twombly's enlarged Polaroids are exquisite and there is a delicious satisfaction in seeing a photograph of grapes, a reference to the American painter's Bacchus series, in a winery setting. Peonies (1980), too, is a masterpiece, and these ethereal works offer glimpses into the intriguing world of Twombly, an artist whose enigmatic paintings have demanded so much of art historians.
In one image, a Twombly sculpture appears against an Old Masters picture of a dog – the sense of harmony is tangible. In another photograph of his home in Bassanoin Teverina, doors open in part to reveal a portrait of woman by Picasso. Perhaps the most fascinating of all are those of the sea at Gaeta. Is this a clue as to where Twombly found his language, in the endless repeat of the waves?

The idyllic property is hosting two further exhibitions. In the wine store, New York-based Thomas Dozol is more direct in his series I'll be your mirror, which feature photographs the artist took of his subjects at a mirror without being included in the image. The artist"s development is clear, as he explores human movement, scale, colour and graphic design, taking these elements back into his most recent portraits.

However, the star of the day is Dublin-based artist Guggi, who is exhibiting in Renzo Piano's magnificent Pavillon d'Exposition. His works are deceptively simple, created on humble brown distressed paper on which the artist has layered acrylic paint. The drawings occupy a place somewhere between figuration and abstraction, and the outcome is contemplative and beautiful. They mark a departure for Guggi, whose fascination with purity of form began in his upbringing among the puritanical Plymouth Brethren.
INFORMATION
'Cy Twombly: Photographs', 'Thomas Dozol: I and Them 08/18', and 'Guggi: Broken' are on view until 28 October. For more information, visit the Chateaû La Coste website (opens in new tab)
ADDRESS
Chateaû La Coste
2750 Route De La Cride
13610 Le Puy-Sainte-Réparade
VIEW GOOGLE MAPS (opens in new tab)