Pavel Pepperstein takes us on a space odyssey in Moscow
The Moscow conceptualist proposes a new world order at Garage Museum of Contemporary Art, which sees the OMA-designed institution transformed with spaceship-like pods especially for his exhibition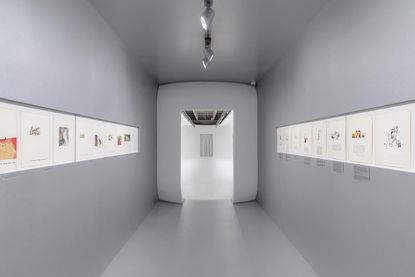 (Image credit: Pavel Pepperstein)
'Psychedelia taught me that it was okay to embrace the things I loved,' says Pavel Pepperstein, speaking from Moscow – a city that, under Soviet rule, did not recognise any kind of art, except the state-sanctioned social realism. It was in this prohibitive political context that Pepperstein, alongside artists like Erik Bulatov and Ilya Kabakov, began their careers, a group of loosely associated artists who later became known as the Moscow conceptualists.

'All of us were making all kinds of strange and subversive art, but the main thing we had in common was that we were making underground art in the USSR in the 1970s and 1980s, which was a big deal' Pepperstein recalls. Their role was not only to liberate art in the post-Stalin years, but to create new audiences and new spaces in which it could flourish.
An interest in parody and irony – Pepperstein says most of his work still starts as a joke – connected the group, as well as rebellious spirit: 'We were making work that was so underground the state wouldn't acknowledge its existence. It was fun.'

At Pepperstein's latest major exhibition – on view at Moscow's Garage Museum of Contemporary Art until 2 June – there's a lifesize replica of the original design for Lenin's tomb, with a replica of the politician's deceased and embalmed body lying next to an unnamed nude lover. The walls of the room are resplendent with flowers and dense ivy.
'Do you think I could have come to that if I started out trying to please anyone but myself?' Pepperstein jokes, always willing to not take himself too seriously. The 52-year-old has, after all, in his rule-breaking and genre-defying career, been variously a rapper, a novelist, a critic and a fashion designer. The Garage Museum exhibition is unabashedly titled 'The Human as a Frame for the Landscape', and it centres on the artist's latest series of drawings and paintings investigating the purpose and role of traditional landscape painting, as 'a frame for some kind of human activity'.
RELATED STORY
Pepperstein's aim is to reverse this: turning humans into frames for landscapes. The curators have gone macro with this idea, installing pods inside the Rem Koolhaas-designed museum, to give the feeling of viewing the works inside a spaceship.

As ever with his work, it is full of surprises – and colours, returning to the artist's encounters with the psychedelic movement. 'Russia is very much a drinking culture, so the mere conceptual existence of a psychedelic culture, in Europe and America, was very inspiring for me,' he reflects. 'It's another way of thinking, another way of living. It's a culture that embraces fictions and conspiracies. It's a culture that embraces the lack of control in our lives. And perhaps most importantly: it's a culture that worships colour.'

Colour – and wild creativity, sometimes incoherent, but always mind-expanding: Pepperstein's exhibition embraces it all; an avant-garde adventure. 'Tell your own story!' Pepperstein exclaims, when asked about his hopes for how his art affects the public. 'It's probably pretty weird, but you might be surprised how many people want to hear it.'
INFORMATION
'The Human as a Frame for the Landscape' is on view until 2 June. For more information, visit the Garage Museum of Contemporary Art website (opens in new tab)
ADDRESS
Garage Museum of Contemporary Art
9/32 Krymsky Val Street
119049 Moscow
VIEW GOOGLE MAPS (opens in new tab)
Charlotte Jansen is a journalist and the author of two books on photography, Girl on Girl (2017) and Photography Now (2021). She is commissioning editor at Elephant magazine and has written on contemporary art and culture for The Guardian, the Financial Times, ELLE, the British Journal of Photography, Frieze and Artsy. Jansen is also presenter of Dior Talks podcast series, The Female Gaze.