In LA, Patrick Jackson's subversive sculptures ooze nostalgia and consumer culture
Timed to Frieze Los Angeles 2023, Patrick Jackson's uncanny new exhibition 'Liquid Clay' at François Ghebaly's disused warehouse space probes tactility, architecture and commerce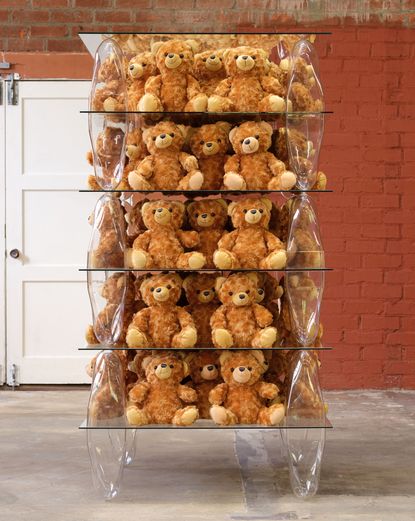 (Image credit: Courtesy of the Artist and François Ghebaly Gallery Photographed by Paul Salveson)
The Los Angeles-based artist Patrick Jackson was in search of what he calls a 'third element' to orchestrate a contrast with the eerie sleekness of his new wall reliefs and vertical vitrine sculptures. 'I was looking for a venue that would combine a store from a science fiction and typical museum architecture,' he tells Wallpaper*. 'I wanted to diverge from the typical gallery aesthetic that is so perfect that a computer seems to have designed it.'

After presenting an exhibition at his Los Angeles apartment in the past, Jackson this time contemplated the idea of presenting the show at a mall, or a store. Serendipitously, a suggestion from the artist's long-term gallerist François Ghebaly quenched the artist's desire to exhibit outside of a white cube. The dealer was on the cusp of opening his Hollywood district expansion at a former warehouse, and he offered Jackson the space dressed with utilitarian details of industrial use for an exhibition. In response to the artist's appetite for a lived environment, Ghebaly even put a halt on renovating the 3,000 sq ft space to maintain its character.
Patrick Jackson's 'Liquid Clay'
'Liquid Clay' which opened just ahead of Frieze Los Angeles 2023 (opens in new tab) features seven life-size glass shelf displays united by geometrically curvacious acrylic columns. Unabashedly commercial yet distinctly subversive, each vitrine displays the same object in obsessive amounts, veiled by the liquid sheen of its transparent scaffolding and the objects' kaleidoscopic reflections over the glass surfaces. A motley of honey-coloured teddy bears with deadpan eyes fills five vertical layers in the aptly-titled Teddy Bears (2023), while shoes, bathroom towels, or electronic goods occupy other akin totemic sculptures. From a flamboyant store that sells acrylic European furniture named Italy 2000 in the city's La Brea neighbourhood to Terrence Malick's 1973-dated classic film Badlands, the influences for the series share the commonality of prompting Jackson to think about 'objects whose values are defined by their relationships to us.'
Familiarity with the body radiates more starkly in twelve wall reliefs which Jackson created in 2016, 2019, and last year with a water-based clay called WED. The material's title is a fitting salute to the show's location as the acronym stands for Walter E. Disney for whom the extremely soft material (also known as EM 217) was invented to create cartoon figures and masks. Unlike the clinical sharpness of the display structures, Jackson's loose handling of the clay works is extremely immediate, as well as personal—so much that the body parts depicted in the reliefs stem from the artist's drawings and sketches from the last twenty-five years. Hands, feet, tongues, and teeth appear throughout the oozing surfaces which serve as chronicles of the artist's subliminal and creative journey from a quarter century. 'There are different opportunities in using what comes out of a store in L.A. and let your consciousness dictate what your hands make with clay,' he adds.
Nostalgia has been a haunting theme in Jackson's oeuvre. In 2018, his one-bedroom apartment was the backdrop for DUM MUD, an exhibition of ceramic sculptures and wall reliefs peppered around the setting's deserted domesticity; or he has created exact replicas of his own body, detailed enough to render the missing nail on a pinkie toe, too.

The artist's 2014 exhibition The Third Floor at François Ghebaly bridged architecture with the psyche. The three-story exhibition paid homage to the Freudian layers of the human consciousness with each floor: the top room's super-ego display had a resin sculpture of a boy; abstract ceramic works took over the middle ground's ego room; and the sunken bottom space was reserved for the id with glazed mugs filled with epoxy and resin. 'The way we never see everything at the same time in films amazes me, and I try to replicate that feeling with architecturally-focused shows,' Jackson says. 'The viewer walks from one room to the next like watching a film's scenes—they can only juxtapose two separate pieces together in their heads, similar to experiencing a movie.'
Discussing the gallery's pending metamorphosis into a white cube gallery space after his show, 'I am interested in the space's past more than the future of it.' For him, objects, as much as architecture, resonate with the memories of the body, from a childhood toy, an adulthood apartment, or a missing toenail. 'Hugging a teddy bear or drying ourselves with a towel leaves our physical memory on these objects, as much as our presence leaves marks on a place.'
Patrick Jackson, 'Liquid Clay' is on view until 4 March 2023 at François Ghebaly, West Hollywood. ghebaly.com (opens in new tab)