'Sculpture in the Garden': Pangolin London shows works in King's Cross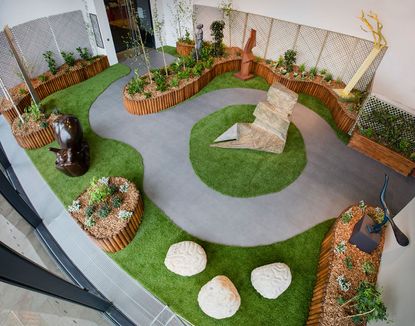 (Image credit: Pangolin London and Steve Russell Studios)
From the glistening monoliths beloved by business parks to the humble gnome of a suburban cul de sac, outdoor sculpture has myriad incarnations.

Public sculpture walks and gardens are having a moment: Frieze Sculpture Park outlived the October art fair for the first time, remaining installed in London's Regent's Park until January; and, in May, The Line sculpture trail was launched through East London.

Yet buying sculpture for one's own garden seems daunting to most, perhaps a little grandiose. That is the perception Pangolin London is trying to change with its 'Sculpture in the Garden' exhibition (on view from 13 May to 9 July), 25 sculptures by modern British and contemporary artists placed within the Kings Place gallery and on the banks of Regent's Canal outside.

With the aid of a garden designer, the gallery has been divided into a wooded area, a walled garden and a formal garden, inhabited by both figurative and abstract works of all scales by Lynn Chadwick, Peter Randall-Page, William Pye, Jeff Lowe and Ann Christopher, among others.

The brainchild of director Polly Bielecka, this is the sequel to Pangolin's 2014 show, 'Sculpture in the Home', inspired by the Arts Council England's series of touring exhibitions in the 1940s and 50s, marrying post-war sculpture with midcentury furniture. 'Sculpture in the Garden' is a typically ambitious scheme for this exacting curator.

'The more I researched about garden history the more I wanted to include, so I had to be strict and edit down to the three themes,' says Bielecka. 'I also had to consider what it is possible to keep alive through the duration of the show.'

The garden has been installed and is maintained by Global Generation, the organisation behind the Skip Garden, also in the King's Cross area.

Away from London's established commercial gallery hubs, Pangolin's Kings Place location lends itself to this sort of show: part commercial, part sculpture trail, with Guardian staff on their lunch break and concert goers wandering in.

While the £10,000 to £1m price range precludes many, the aim is to inspire all comers to consider investing in sculpture for whatever outside space they have, be it an urban roof terrace or a rambling rural idyll.

Outdoors, sculpture can both transform and be transformed by its surroundings. As Bielecka says, 'One of the pleasures of sculpture is being able to enjoy it outdoors where it can be a focal point, begin a dialogue with its natural or manmade surroundings and change with differing weather conditions.'

But installation needs consideration: 'Think carefully about placement, the atmosphere of the garden and scale; plinths are important for smaller pieces.' Then, make sure you bolt it down.
INFORMATION
'Sculpture in the Garden' is on view until 9 July. For more details, visit the Pangolin London website (opens in new tab)
Photography courtesy Pangolin London
ADDRESS
Pangolin London
Kings Place
90 York Way
London, N1 9AG
View Google Maps (opens in new tab)