Chinese import: Pace Gallery stages Qiu Xiaofei's first solo North American show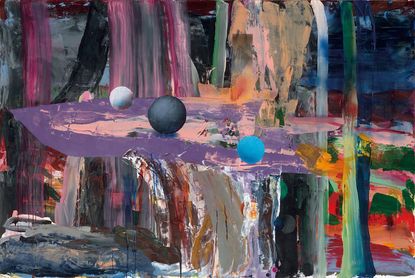 (Image credit: Courtesy of the artist and Pace Gallery )
Opening at New York's Pace Gallery this week, 'Double Pendulum' is the first solo exhibition in North America for the Chinese contemporary artist Qiu Xiaofei. This show, in particular, is a true departure from Qiu's usual work, that has historically been more of a reflection on his past: a time warp, if you will. The show consists of a group of new works dealing with the 'expression of psychological and cultural forces through art' – and specifically, painting.

Using acrylic paint, Qiu appropriates palette knives, spray guns, brushes and other implements in an improvisational manner; giving in to and resisting the resulting sprays, drips and even the creation of forms. The art, which leans towards abstraction, explores the potential of form plus colour, and thus expresses what the artist calls 'a social subconscious'.

'There has been a kind of distant coolness in Chinese art, even when it refers to the West in style,' says Arne Glimcher, chairman of Pace Gallery in New York. 'Qiu Xiaofei's painting is unique in China and spearheads a new generation of Chinese abstraction. Although his personal references are encapsulated in expressionistic color and enigmatic symbols, they are uniquely Chinese.'

The artist, born in Fujian, China, studied at the Central Academy of Fine Arts in Beijing from 1998 to 2002 and is a member of the N12 group of Central Academy of Fine Arts graduates, who began staging shows together in 2003. He has had solo exhibitions at institutions including the Art Museum of the Central Academy of Fine Arts, Beijing and Doosan Art Center in Seoul.
INFORMATION
'Double Pendulum' opens on 11 March and runs until 23 April. For more details, visit Pace Gallery's website (opens in new tab)
Photography courtesy of the artist and Pace Gallery
ADDRESS
Pace Gallery
510 West 25th Street
New York, NY 10001
VIEW GOOGLE MAPS (opens in new tab)
Daniel Scheffler is a storyteller for The New York Times and others. He has a travel podcast with iHeart Media called Everywhere (opens in new tab) and a Substack newsletter, Withoutmaps (opens in new tab), where he shares all his wild ways. He lives in New York with his husband and their pup.