Out of Africa: Paris' Fondation Cartier surveys 100 years of modern art in the DR Congo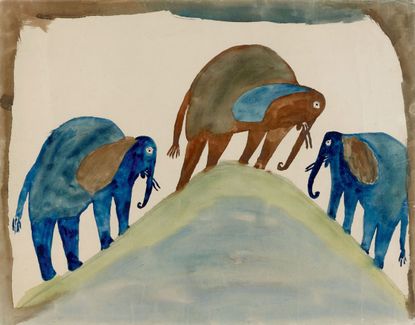 (Image credit: Fabrice Gousset & Cornette de Saint Cyr, Paris)
André Magnin (opens in new tab), the chief curator of 'Beauté Congo' at Paris' Fondation Cartier pour l'Art Contemporain, has gathered over 350 works by 41 artists from the Democratic Republic of Congo to create the largest survey of the African country's vast and vibrant history of modern art to date. Spanning the mediums of photography, painting, sculpture, comics and music, the show covers almost 100 years of recent history, taking in several generations of artists, who have each witnessed, and in turn created, artistic responses to the country's conflict.

The exhibition's point of departure is 1926, when the DRC was still a Belgian colony and modern painting had only just started to catch on. The first known Congolese works come from Albert and Antoinette Lubaki and Djilatendo, who painted scenes of village life and the natural world on paper. Following the Second World War, French painter Pierre Romain-Desfossés's Atelier du Hangar art workshop liberated painters such as Bela Sara, Mwenze Kibwanga and Pili Pili Mulongoy. Twenty years later, following the 1960 shift to independence that saw Congo became Zaire under Mobutu, the 1978 exhibition 'Art Partout' in Kinshasa uncovered the work of new figurative painters Chéri Samba, Chéri Chérin and Moke.

The tumultuous years that followed – and the two consecutive wars in 1996–1997 and 1998–2003 – influenced the work of artists like Papa Mfumu'eto, whose independent 1990s comic book explored everyday life and struggles in the city of Kinshasa; and sculptor Bodys Isek Kingelez and Rigobert Nimi, who created detailed architectural models of utopian cities or roboticised factories.

Commenting on the country's ongoing unrest, new faces like J-P Mika and Monsengo Shula continue the approach of their elders, while artists Pathy Tshindele and Kura Shomali from the collective Eza Possibles create critical, unconventional collages and paintings.

As well as the many paintings, the work of post-independence photographers such as Jean Depara and Studio 3Z will be on show, capturing the lively and extravagant night life of Kinshasa in the 1950s and 1960s (Depara) and the attitudes and ardor of its youth in the 1970s (Studio 3Z).

Providing a soundtrack to the show will be songs by rumba singer-songwriter Tabu Ley Rochereau, Franco Luambo and his group OK Jazz, and Mbilia Bel, the Queen of Congolese rumba, among others carefully selected by Vincent Kenis of Crammed Discs in collaboration with Césarine Bolya. In addition, the duo will also present their never-before-seen documentary entitled Ndule Ya Kala – a series of candid interviews with those who participated directly or indirectly in Kinshasa's 1960s music scene.
ADDRESS
Fondation Cartier pour l'Art Contemporain
261 Boulevard Raspail
75014 Paris
VIEW GOOGLE MAPS (opens in new tab)