'Nihilistic Optimistic' by Tim Noble and Sue Webster, Blain Southern Gallery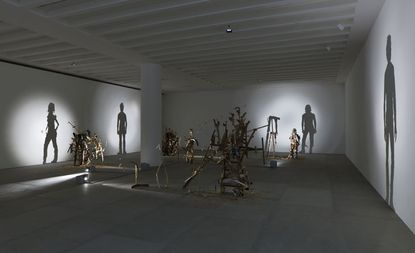 (Image credit: TBC)
Punk artists Tim Noble and Sue Webster were partners in life and work for 26 years. They stopped living together a year ago and have now documented their split in a show entitled 'Nihilistic Optimistic' at the new Blain Southern Gallery in London's Hanover Square.

Using junk, metal and wood, the duo have created five shadow sculptures which come with titles such as 'Self-Imposed Misery' and 'Wild Mood Swings' and portray both artists in various states of isolation.

Although the premise of the show is rather sad (along with Gilbert & George and Langlands & Bell, Noble & Webster were art couple royalty), the works are so perfectly executed they are anything but.

Their first solo exhibition, 'British Rubbish', catapulted them on to the scene in 1996, and since then they have made shadow sculptures from old crisp packets, stuffed animals and castings of Noble's penis.

In this show, their first for six years, they were keen to break the mould. 'My Beautiful Mistake' is a pile of seemingly random objects stacked high. 'It doesn't follow a line or profile and has nothing to do with shadows,' says Webster; 'We wanted to free ourselves from having to make a silhouette. It's a bit like the game "Consequences", with objects instead of words. We added things as we felt like it. We deliberately defaced the books so that no-one would read anything into them, and the wheelbarrow had been knocking around the studio for ages.'

Although separated, they will continue to work together, and in addition to the sculptures, the pair has made a limited-edition record called Nihilistic Optimistic, produced by The Vinyl Factory. On the A-side, Sue chants 'nihilistic', and Tim repeats 'optimistic' over and over. On the B-side they swap.

'The more you say the word, the more you feel it,' says Webster, who describes herself as a natural nihilist. It comes in 10 and 12-inch versions, and 'the idea is that you play them together.' And earmuffs are strictly forbidden.
Emma O'Kelly is a contributing editor at Wallpaper*. She joined the magazine on issue 4 as news editor and since since then has worked in full and part time roles across many editorial departments. She is a freelance journalist based in London and works for a range of titles from Condé Nast Traveller to The Telegraph. She is currently working on a book about Scandinavian sauna culture and is renovating a mid century house in the Italian Lakes.