Punks and pioneers: 1970s-90s British identity surveyed in Sprüth Magers exhibition
From the birth of punk to the postmodern computer age, artists Peter Saville, Sarah Lucas, Richard Hamilton, Damien Hirst and Gillian Wearing among others capture the zeitgeist of British art, culture and society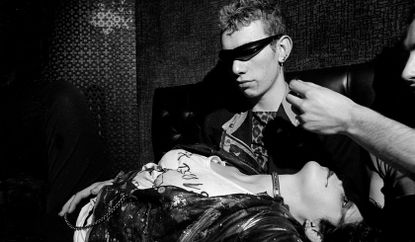 (Image credit: © Karen Knorr and Olivier Richon. Courtesy of the artists)
'Tell me, how do I feel? Tell me now, how do I feel?' sings Bernard Sumner in New Order's unmistakable Blue Monday. First released in March 1983 through Factory Records, the pioneering synth-pop classic was a hit at clubs across the UK that summer and became the top-selling 12-inch record of all time.

Sumner – reportedly under the influence of psychedelics when he wrote the lyrics – has always remained ambiguous about the song's meaning. And Peter Saville's iconic cover for the record pushed the songs obfuscated messages further, creating a blank cover that ripped asunder all graphic design rules: no title or band name appear on the blank floppy disk, with a colour code strip down the side, an incisive statement about the machine age. Later, Saville included a colour wheel on the back of New Order's album, Power, Corruption & Lies, that allows listeners to decode the song's title. (All this wasn't cheap to produce – rumour has it the record was so expensive to make that Factory Records went into the red despite the single's success).
Saville's design was emblematic of British visual culture at the time: a suffusion of computer-perfect industrialism and leather-clad, beating-heart romanticism that started with artists like Richard Hamilton, The Sex Pistols and Joy Division and wound up with the YBAs. Saville's work is presented as the hinge of the whole of this period of British culture and identity, surveyed in the group exhibition 'New Order: Art, Product, Image 1976-1995', selected by Michael Bracewell, at Sprüth Magers in London.

Moving from Karen Knorr and Olivier Richon's portraits of West End punks in the mid-1970s (it's hard to imagine west London as the home of punks now) concisely juxtaposed with Knorr's later series of the wealthy elite in Belgravia, the exhibition traces changes in society through culture, capitalism and changing politics. Early-era YBA works (including video footage of a teenage Sarah Lucas, Gillian Wearing dancing in a shopping centre and an early medicine cabinet by Damien Hirst) are presented as the natural evolution of the DIY punk era and its abrasive confrontation with Thatcherism; post-modernism was born.

The work of this period can often feel a bit like the melodrama and pseudo-intellectualism of youthful endeavour, but there's also a hint of regret about this exhibition. Britain finds itself struggling again to assume an identity, fractured and torn as it was then, but perhaps less rebellious and ready to create chaos. In answer to Sumner's question, we're really not sure how we feel now.
INFORMATIONADDRESS
'New Order: Art, Product, Image 1976 – 1995' until 14 September, Sprüth Magers. Peter Saville will be in conversation with Michael Bracewell at the gallery on 5 September. spruethmagers.com (opens in new tab)
ADDRESS
Sprüth Magers
7A Grafton Street
London W1S 4EL
VIEW GOOGLE MAPS (opens in new tab)
Charlotte Jansen is a journalist and the author of two books on photography, Girl on Girl (2017) and Photography Now (2021). She is commissioning editor at Elephant magazine and has written on contemporary art and culture for The Guardian, the Financial Times, ELLE, the British Journal of Photography, Frieze and Artsy. Jansen is also presenter of Dior Talks podcast series, The Female Gaze.