Fantasy, femininity, fairytales: Nevine Mahmoud's alluring sculptures at Soft Opening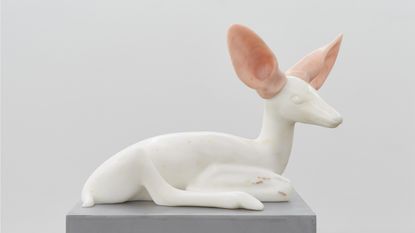 (Image credit: Courtesy the artist and Soft Opening. Photography: Theo Christelis)
Nevine Mahmoud's alluring sculptures are a play of opposites. The smooth surfaces of giant peaches, lips and, most recently, deer invite touch. At the same time, they are hard, crafted in materials such as marble and glass. They hold the dual properties of coldness and warmth; fragility and sturdiness; eroticism and innocence.
These conflicts speak to what it feels like to reside within a sexualised body. There are usually unmissable nods to the female form in the British artist's sculptures, but for her new exhibition 'In Mass and Feeling' at Soft Opening in east London – opening alongside Frieze Week 2022 – she takes a step away from such direct references to the body.
In place of dripping wet fruits and suggestive doughnuts, she has cast Little Tykes plastic toy cottages, a tricycle, and a deer in marble. The light blue and pink cottage doors riff on her previous show, 'Foreplay II' at M+B Doheny in Los Angeles, where life-sized playground structures were combined with huge tongue slides and swinging breasts.
'The playground sculpture could be seen as a portal or entryway, which I have thought about before with the body in terms of orifices, lips and mouths; holes and cleavages,' she tells me. 'It felt like another formal way of thinking about that idea.'
There is something discomforting about the cottage doors standing alone, leading nowhere, casts of plastic forms that mimic something else. They call to mind the stone houses of witches and gnomes in fairytales. The viewer's imagination is allowed to fill in the blanks. 'The inside is carved like padding,' Mahmoud tells me. 'The shutters have a crisscross effect like a romantic barn. These things are signifiers of fantasy. They are domestic, mythological; they hint at man and nature. But they're so reduced.'
The deer appears to reside in the same mythological universe, with a white Turkish Sivec marble body and hand-carved ears that are eerily realistic, rendered in Portuguese pink marble with delicate vein markings. 'It conflates the fragile, feminine, child-like and erotic,' she explains. 'The ears connote something more lifelike and alive, whereas the paler, drained of colour aspects of the body are like a passive formalism.'
This is the first body of work for which Mahmoud has used a mix of hand and robotic carving. For example, the deer combines a robotically carved body with hand-carved ears. The artist usually tries to create as much as possible by hand but is pleased with this hybrid way of working.
The eroticism of 'In Mass and Feeling' is subtle. In moving away from the more directly sexualised symbols of fruit and erogenous body parts, Mahmoud hints at an uncomfortable eroticism attached to childhood and purity. 'I feel like what was motivating me was innocence,' she explains. 'Modesty, purity… those words were coming up. If the erotic is here, it is very forbidden. With the fruit, there is an acceptable, comfortable reference to eroticism. This is stranger.'
The deer also speaks to cultural assumptions of femininity. Its inclusion within the show explores the full complexity of this trope. 'It's a very tangible archetype, this frail little deer. I am confused about where women stand with that. Are we meant to negate that or feel that way?' Mahmoud considers. 'There is a beauty and elegance, but it's very passive.'
Receive our daily digest of inspiration, escapism and design stories from around the world direct to your inbox