'National Gallery' by Thomas Demand, Berlin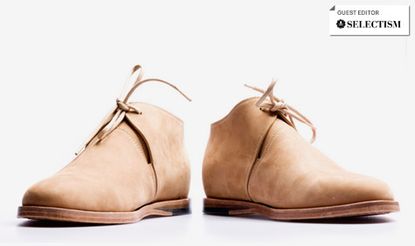 (Image credit: TBC)
Anniversaries are always opportune occasions for a spot of navel gazing, especially in Germany. This year the nation is marking two whole decades since the fall of the Wall as well as the 60th birthday of the German Federal Republic with a good deal of cultural events and a generous measure of introspective analysis. Art, of course is an ideal medium for difficult subjects and few are currently capable of reflecting this nation's complex collective psyche with such understated sensitivity as the Munich-born artist Thomas Demand.
Demand works with his generation's media memories – in paper. He builds perfect 1:1 model replicas of scenes: a kitchen, a ransacked office, a bathroom, a bus stop, all exquisitely precise but with the fine detail missing and then photographs them. The resulting large-format images are representations of locations where events occurred that form part of the social, political, cultural and historical fabric of the nation.
The original images of these tableaux, populated with politicians, citizens, celebrities and sometimes bodies were replicated thousands of times across the country's media pages and screens. Thus the plundered Office (1995), for example, corresponds to the former Stasi HQ in Berlin's Normannenstraße ransacked by demonstrators in January 1990, the blue-tiled Bathroom (1997) mirrors the original press photo showing the body of Schleswig Holstein's former minister president who met a violent end in a Swiss hotel bath and the bus stop turns out to be the former home-town hangout of the pop group Tokyo Hotel.
A week before the beginning of the Berlin's big annual art fair, the Art Forum, a major new exhibition of some 40 works by Demand opened in town at the Neue Nationalgalerie. Appropriately entitled: 'National Gallery' this show throws up as many questions as answers. It is an intriguing web of contradictory and competing references. Demand's work hangs in one of the most iconic modern buildings of all time: for all its transparence, Mies van der Rohe's gallery is very dominant. The interior space has been divided up by British architects Caruso St John with some 5km of floor to ceiling wool curtains courtesy of the Danish firm Kvadrat.
Demand's images hanging on these kilometers of fabric folds are equally having to compete with them for attention and light. Then there are rather stylish vitrines before each image containing texts by the celebrated German author and playwright Botho Strauss that respond to and also compete with the pictures in their way. One begins to wonder why the exhibition is not credited to all these protagonists instead of just the one.
Add to this symbolic and thematic pot pourri an opening party with incongruous decorations worthy of a Bavarian bierfest populated by the established society crowd and somehow the mix was just right: Thomas Demand's 'National Gallery' is no paper tiger it is a vibrant and highly complex mix of the substantial, insubstantial. representative and implicated, intention, chance and history. There are no simple defining images, there is no single author, there are no clear-cut positions.
Receive our daily digest of inspiration, escapism and design stories from around the world direct to your inbox